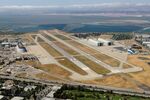 U.S. taxpayers subsidized the fleet of planes used by Google's Larry Page, Sergey Brin, and Eric Schmidt, lowering the price of fuel for the billionaire executives by as much as $5.3 million over a six-year period, according to a new report by NASA's inspector general.
Google's co-founders and chairman lease space for nine airplanes at NASA's Moffett Airfield, a research facility located near the tech giant's headquarters in Mountain View, Calif. The arrangement goes through a private company, H211, owned by the executives. The Google crew's nine planes at the airfield include a Boeing 767 jumbo jet, five Gulfstream V planes, and a European-built fighter jet acquired in 2008 to help satisfy terms of their lease with NASA. While H211 gets to keep the billionaire trio's fleet at the government facility, NASA gets to use the fighter, an Alpha Jet, for scientific research flights.
The review found that the entire fleet managed by H211 paid the lower rate that the fuel supplier at Moffett, DLA-Energy, typically charges for affiliates of the Department of Defense. When the military purchases jet fuel at the airfield, it isn't assessed state and local taxes or other fees that commercial airports would charge. As a result, Nasa's inspector general, Paul Martin, estimated in a report (pdf) released Wednesday that H211 received a fuel discount of $3.3 million to $5.3 million for the period from September 2007 to August 2013. Martin attributed the discount to a "misunderstanding" between personnel at the airfield and the fuel supplier "rather than intentional misconduct. … DLA-Energy misunderstood that H211 was drawing fuel for both private and NASA-related missions. While this arrangement did not cause a loss to NASA or DLA-Energy, it resulted in considerable savings for H211."
Martin concluded that the "only potential 'victims' in this situation are the state of California and the local government which may have lost tax revenue associated with the fuel purchases and perhaps a commercial fuel supplier who may have missed out on potential profit from the fuel sales."
Ken Ambrose, an H211 executive, has told reporters that the company is reviewing the report, and it began paying market rates for jet fuel three months ago. A spokeswoman at the NASA facility had no immediate comment.
From August 2012 through July 2013, 74 percent of the 229 flights on H211′s aircraft were for private trips, with the rest for air sample collections conducted by NASA, according to the report, and H211 paid about $668,000 for NASA-conducted research flights for three years ended in July 2013. H211 pays $1.4 million annually to lease 70,000 square feet to store its fleet, which includes two helicopters. The arrangement dates to August 2007 and prompted NASA to revise its leasing policies after an earlier report by the inspector general found that the agency had not advertised for other bids on the space that was available after the Google executives had asked to lease it.
But the Google crew won't be working with the space agency much longer. H211′s current lease ends in July 2014, and NASA has declined to renew it.
Before it's here, it's on the Bloomberg Terminal.
LEARN MORE