General Motors Sells Ally Financial Stake for $900 Million
Dakin Campbell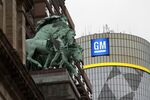 General Motors Co. completed the sale of its 8.5 percent stake in Ally Financial Inc. for about $900 million as the automaker moves to sever ties from its former financing arm.
The sale will result in a gain of about $500 million in the fourth quarter, GM said today in a statement. The buyers weren't named. Both companies are based in Detroit.
Ally, formerly known as GMAC, is seeking to regain its independence after taking a U.S. bailout during the financial crisis that was designed to keep the auto industry afloat. Taxpayers still held a 64 percent stake in Ally as of Nov. 20, according to the company. GM said the carrying amount of its stake was $397 million and the fair value was $866 million at the end of September.
"This transaction releases capital from a non-core asset and further enhances our financial flexibility," Dan Ammann, GM's chief financial officer, said in the statement. "Ally continues to play an important role in financing our dealers and customers in the United States."
GM's stake was held indirectly in an independent trust, according to the automaker's quarterly securities filing.
Before it's here, it's on the Bloomberg Terminal.
LEARN MORE