From the Brink of Disruption to the Year's Top Corporate Comebacks
Robyn Bolton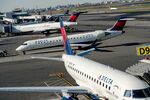 In 1991, LL Cool J rocked MTV Unplugged, rapping to the audience, "Don't call it a comeback." He didn't wish to dwell on the flops of the past or to jinx the future.
Today, three companies – Best Buy, Delta Airlines, and General Motors – could say the same thing. Only a few years ago, each was dismissed and left for dead. But each has since come back and now stand as the turnaround story of 2013.
How did they do it?
Turnarounds of the magnitude that are occurring at Best Buy, Delta, and GM are no simple, quick, or easy thing. But these comebacks have three things in common, and each element is required for success:
Accepting that disruption in their industries has created a new normal.
Repositioning the core business, even if it means getting smaller.
Investing in new business models based on consumer insights.
Cost cutting is only one part of the story. Yes, GM shut down plants, Best Buy closed stores, and Delta eliminated routes. But all three companies also embarked on a strategic plan of retooling the old while inventing new growth opportunities based on fresh insights about customer needs. Let's take a look at all three elements:
Accepting Disruption as the New Normal
In 2011, Best Buy's CEO Brian Dunn was blaming the company's lackluster performance on "industry headwinds," a phrase many people considered a euphemism for Amazon. Consumers had quickly adopted the habit of "showrooming" – visiting Best Buy stores to do research and try products, then making their purchases online. Critics predicted that the electronics retailer would go the way of Circuit City.
When Hubert Joly, Best Buy's new CEO, took the reins in 2012 he immediately embraced the new market reality, vowing to match Amazon's prices, thus eliminating the disruptor's most potent advantage.
In 2005, Delta filed for bankruptcy, citing higher fuel prices and more intense competition. Disruptors such as Southwest Airlines and JetBlue were using a combination of lower prices and expanded routes to grow their businesses and win consumer loyalty.
Post-bankruptcy, new CEO Richard Anderson acted with the belief that high fuel prices and lower-cost competitors were not temporary conditions. That meant streamlining schedules, as well as layoffs, renegotiated union contracts, buying used instead of new planes, and the purchase of an oil refinery.
By the time GM filed for bankruptcy in 2009, it had already suffered through decades of disruption from Japanese automakers, and its prospects looked so bleak that many critics were skeptical whether government assistance would be wasted. Then CEO Dan Akerson discontinued brands such as Hummer and Saturn and accepted that the company would be as much as a third smaller than it was before the reorganization.
Repositioning the Core
At Best Buy, Joly began by turning the company's biggest liability—its bricks-and-mortar cost structure—into an advantage. By investing in improving the store environment and in employee training, he ensured that the consumers had the great experience and access to information they expected and the opportunity to pick up online purchases on the same day–something Amazon couldn't match.
Delta focused on the things that mattered most to customers – reliability and service. It brought back the Red Coats, senior airport customer service agents empowered to solve problems on the spot. It also implemented a "flat tire" policy that allows workers to waive change fees and schedule passengers on the next flight if they were delayed by unforeseen circumstances. Delta added WiFi to their fleet faster than competitors, and it achieved 95% on-time performance without cancellations.
At GM, the new management team took bold action besides just shedding costs. Leading the transformation of its approach to auto design was Mary Barra, the product development chief who was just named new CEO. Barra favored lighter, more stylish cars, and engineering based around customer insights. This was best typified by the resurgence of the Chevy Malibu, which now ranks among the top ten vehicles sold in the U.S.
Investing in New Growth Ventures
Best Buy began experimenting with different retail formats and new business models such as stand-alone Geek Squad service stores, Best Buy Mobile stands, vending machines and Magnolia Home Theater showrooms.
On the innovation front, Delta became the first airline to enable passengers to track their own bags in real time through a smartphone app. It also unveiled Photon Showers as a way to reset body clocks and avoid jet lag.
GM also pioneered new categories, with the Chevy Volt becoming the world's best-selling plug-in, and the Consumer Reports crowned it the top-rated vehicle in driver satisfaction for two years in a row.
Results for all three companies have been impressive. Best Buy recently announced a 2.3% increase in quarterly U.S. revenue. Its stock is up nearly 250% year to date. At Delta, the airline is about to record its fourth consecutive profitable year and its stock has more than doubled this year. Reporting solid profits for four straight years, GM is now free of any government ownership and has taken back the title of the world's largest auto maker from Toyota. Its stock is trading at a new high since its IPO in 2010.
Turnarounds aren't as simple as 1-2-3. It takes years and executive teams committed to transforming their companies to achieve what Best Buy, Delta, and GM seem poised to do. But these three companies can serve as examples for the likes of J.C. Penny, Hewlett-Packard, and Microsoft, which are striving to be next year's comeback stories. Though, like LL Cool J, they'll probably tell you, "Don't call it a comeback/I been here for years."
Before it's here, it's on the Bloomberg Terminal.
LEARN MORE