Exclusive: The Inside Story of GM's Comeback and Mary Barra's Rise
What kind of company is GM CEO Dan Akerson handing Mary Barra?
By and
Dan Akerson, the chairman and chief executive officer of General Motors, arrives at the company's Technical Center on Nov. 13 to address about 1,000 engineers and designers. The sprawling, multibuilding campus in Warren, Mich., is about 15 miles north of downtown Detroit and includes a planetarium-like laboratory for studying secret prototypes under shadowless lighting. The helicopter landing pad used by former Vice Chairman Bob Lutz, the self-appointed king of the "car guys," is here, too. The Tech Center isn't GM's headquarters, though it almost was: In 2009, GM was ready to move to Warren, abandoning downtown Detroit to the hustlers and hockey fans before political considerations scuttled the plan.
Yet the Tech Center is the heart of the company, the seat of a $15 billion product-development operation. It's where GM created the latest Chevy Impala and Silverado, called America's best sedan and pickup, respectively, by Consumer Reports in 2013, and the Cadillac CTS, which Motor Trend named 2014 Car of the Year. J.D. Power & Associates recently named GM No. 1 in its annual Initial Quality Study—the first time any American automaker has landed the top spot in 27 years. Privately, Akerson basks in these accolades—he's called the J.D. Power award one of his proudest achievements. At this meeting, however, he's his usual stern, admonishing self. He warns employees not to lose sight of what still must be done. "I'll tell you what," he says, "you're only as good as your last launch."
Sitting onstage with Akerson, asking him questions in her genial Michigander accent, is Mary Barra, his top product officer and the person to whom most people at the Tech Center report. "I'll let you shoot, Mary," says Akerson.
"This is a great opportunity because generally he's asking me questions," Barra tells the group to laughter.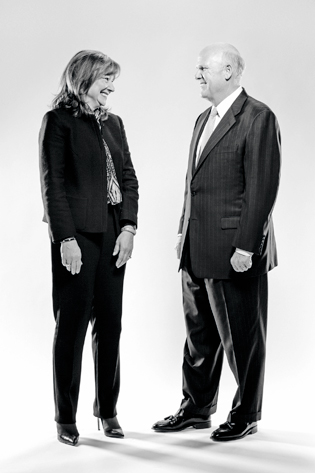 The two talk about positioning Cadillac against Audi and BMW to shore up the company, which may not always be able to rely on pickups and SUVs for high-margin sales. "If you don't attack your own business model, trust me, somebody else will," says Akerson. They talk a lot about Tesla Motors, an automaker Akerson follows closely, openly admiring the electric-car company's ability to build a brand.
A month later, on Dec. 10, Akerson announced his plan to retire in January to care for his wife of more than 40 years, Karin, who was diagnosed with advanced cancer. With Akerson's full support, the company named Barra CEO; Tim Solso, the former CEO of engine maker Cummins, will become chairman of the board.
Barra, 51, is the first woman to run GM, and the first woman to run any major automaker. Even more remarkable to employees and close watchers of the company is her pedigree: engineer by trade, GM lifer by birth. She began 33 years ago as an intern, and her first job out of school was as a plant engineer at the assembly factory in Pontiac, Mich.; her father spent 39 years at the same division making dies. She's an affirmation of everything GM has done right, but also a company woman from the troubled years.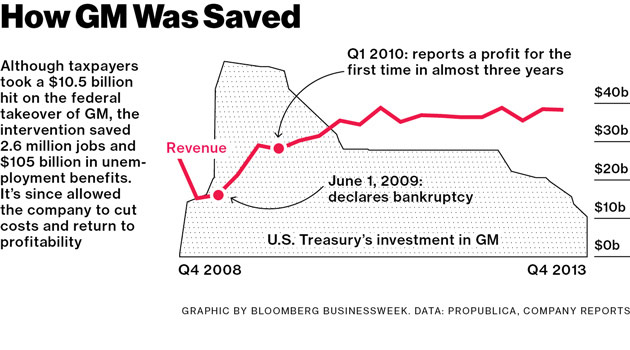 As Barra takes charge, GM is looking stronger than it has in decades. It's in its third straight profitable year and feasting on the fruits of bankruptcy, which in its case include lower labor costs, less debt, and the elimination of weak brands and redundant dealers. Brian Johnson, an analyst with Barclays, expects it to earn about $6 billion in 2013. As the automaker sees the benefits of all the products it's launching and additional cost reductions, its profit could reach $10 billion in 2017, according to Johnson. In 2010, GM had the second-biggest initial public offering in U.S. history; shares are trading at a high; the company returned to the Standard & Poor's 500-stock index; and it won back an investment-grade credit rating for the first time in eight years from Moody's. Warren Buffett has been buying the stock. China, where Buick is a status symbol—it was the ride of China's last emperor—is now the company's biggest market.
And GM is no longer "Government Motors." On Dec. 9, the day before Akerson announced his retirement, the Department of the Treasury, which had been selling about 1 million GM shares a day as the year was ending, declared it had sold the last. The federal government will recoup about $39 billion of its $50 billion investment. Supporters of the Obama administration's decision to take over GM, who now include Akerson, contend that the jobs saved at both the company and its huge network of suppliers more than repaid U.S. taxpayers. According to the Center for Automotive Research in Ann Arbor, Mich., the takeover preserved 2.6 million jobs in 2009 at automakers and companies that depend on the industry. The center calculates that a collapse would have eliminated $284 billion in personal income in 2009 and 2010 and cost the federal government $105 billion in unemployment benefits and reduced Social Security contributions. GM says it has invested $8.8 billion in U.S. facilities since 2009 and created 25,500 jobs for new and existing workers.
Akerson pointedly tried to move the company away from the "Old GM," an entrenched group of executives who, with swagger, ego, and scant attention to financial statements or long-range planning, drove the company into bankruptcy. The transformation to a "New GM," however, remains for Barra to complete.
 
 
The seven shining cylinders of the Renaissance Center—GM's formal headquarters—stand like a keep on the Detroit River. Police cars parked on the periphery don't seem to deter the bandits on the deserted downtown streets. When Bloomberg sent a photographer a few weeks ago, he was robbed of $15,000 worth of equipment. The hustle didn't end there. The photographer also spent, and lost, money in an attempt to get his equipment back. When BMW reps came to town for the car show a few years back, thieves stole their 7 Series sedan.
The RenCen is a strange building that seems to have been designed for puzzle lovers. Stairs—like the old management system that infuriated previous CEO Ed Whitacre, who could barely find out who reported to whom—run every which way, separated by circular platforms connected by catwalks. One can look down and see a coffee shop one floor below and spend 10 minutes trying to figure out how to get to it. GM's last CEO before bankruptcy, Rick Wagoner—who famously flew in the corporate jet to Washington to ask for a bailout—used to shoot downstairs from his office on the 39th floor in a tiny private elevator to the company garage, where an array of GM cars await the leaders. There used to be executive showers on the 39th floor, too, but Akerson—who flies commercial—had them removed, grousing, "We come here to work, not to shower." Plus, they were starting to attract bugs.
In his cavernous office, Akerson keeps a framed cover of a 1983 issue of Fortune magazine on a shelf by his desk. Pictures of four nearly indistinguishable cars—Chevy, Pontiac, Oldsmobile, and Buick—are lined up below the headline, "Will Success Spoil General Motors?" It's a reminder of what can happen, Akerson says during a December visit. "We totally destroyed brand identification," he says. "I really do think the seeds of the destruction of the company were made in the '70s and '80s."

Akerson has a special fondness for unpleasant truths and is free of the normal chief executive's horror of mentioning competitors: He once insinuated that a Ford Motor truck was so ugly it had to be covered with auto girls at the car show, and has suggested that the Lincoln brand was so dead that Ford ought to "sprinkle holy water" over it. His penchant for frankness extends to his own record. He seems to take perverse pleasure in discussing his decision to delay the planned rollout of the Chevy Cruze, a "multihundred-million-dollar" call he likened to bitter but much needed medicine. As a GM board member before becoming CEO, he let executives know he disapproved of everything from plans for the company's marketing strategy to quality efforts. "He said he thought GM was one of the worst companies he'd come across in his entire life," Whitacre wrote in his book American Turnaround. "And he was not a fan of GM cars—he made that crystal clear." ("Nobody here remembers me saying the things that Ed attributed to me," Akerson says. "You keep telling it a thousand times, and it becomes the truth.")
He came to his opinions about the automaker the same way a lot of Americans have: through bad experiences. There was the time a condescending Chevy salesman called Akerson's new bride "little woman." They left with her near tears and went straight to a Toyota Motor dealer. As a kid growing up in Mankato, Minn., he'd watched his father progress through several GM brands, from a Chevy to a Pontiac to an Oldsmobile, ultimately buying a Buick. "I remember he thought he got a bonanza because he had a brand-new Oldsmobile and he got a check for a couple hundred dollars," Akerson says. "Somehow somebody filed a class-action suit that said they put in Chevrolet engines." By the early '80s all distinctions had been lost.
Akerson's rocky past with GM's brands made him well-suited to clean up the faltering corporation. The U.S. government brought him onto the board in 2009—he was an executive at Carlyle Group at the time—and he became CEO in 2010. (Whitacre stayed on a few more months, after which Akerson assumed the chairman title, too.) "There were systemic issues," he says. Engineering and parts buyers were so separate "we could have outsourced both of them," he says. "They just hated each other."
Akerson assigned Barra to end that conflict by linking product development and purchasing under one leader. Every division had its own IT department. IT functions are now centralized, says Akerson, and GM's computer system can calculate the true cost of things. He can even track sales by country, which he wasn't able to do before. Similarly, the platforms on which the cars are built are being reduced and streamlined, much as Volkswagen operates. Modules and parts and designs are now shared more across models. "That wasn't true before," says Akerson. "Every damn model, models within brands, was different."
He also pushed performance metrics out beyond one year. "Somebody can look good for a year. You really need to get a two- or three- or four-year picture if they're doing their job," he says. That's true in judging for quality, too, and he and Barra are testing parts longer now. A robot, for example, might have tested opening and closing a car door for the equivalent of three to five years' worth of use to make sure it would hold up. "It's indicative, but it's not compelling," he says. Now they keep going until the parts fail. Brake rotors are baked so they don't rust.
Quarterly presentations to employees now include financial comparisons to rivals instead of only internal targets. Akerson has planned consistent spending of $8 billion each year for reinvestment in redesigns—even in less profitable years—to keep the cars fresh. Among his priorities has been making Cadillacs competitive with German luxury brands to offset a possible future decline in pickups if stricter U.S. fuel-efficiency standards go into effect. "If we're not successful with Cadillac in the next 10 years, we're in trouble," he says. His definition of Cadillac's success: sales of 1 million vehicles a year, or five times as many as GM sold last year. Akerson spent $3 billion to help dealerships remodel to be prepared for the 18 new or refreshed vehicles hitting showrooms this year. Fourteen more will arrive next year, taking the lineup from among the oldest in the industry to the newest.
In Europe, GM is trying to do something it hasn't been able to do since 1999: make money. The company has lost more than $18 billion on the continent in the last 14 years. Akerson put Vice Chairman Steve Girsky in charge of a turnaround that included hiring executives from Volkswagen and closing a car factory in Germany. (With Barra appointed CEO, Girsky has announced he's scaling back his operational duties but will remain on the board.) Akerson also worked to get Chevrolet out of Europe entirely by 2015. "I was in the service during Vietnam," he says. "At some point in time, you've got to say this isn't working. You can't just keep throwing resources into it." The losses have narrowed, and Akerson says GM's on track to break even in Europe by mid-decade.
When Akerson put Barra in charge of car design—she'd been working at human resources for a short time—she undertook a reorganization of engineering to streamline the number of executives overseeing products.

Akerson demanded faster development. To get quicker data connections, he signed a deal with AT&T to put 4G in most GM vehicles starting next year. He also oversaw efforts to rebuild GM's captive finance arm, including the purchase of Ally Financial's international operations. All this aggressive pushing by Akerson led to some mistakes. Coming out of bankruptcy, he was eager to get new vehicles in showrooms and encouraged engineers and designers to release the Malibu six months early. Reviews of the new car were tepid, with complaints about lack of legroom and dated styling. He backed Mark Reuss, president of North American operations, in an effort to update the vehicle early. "We knew this needed to be changed," Reuss says. "There were some people who didn't want to do it. 'We don't know the business case, we should wait for the midcycle enhancement, blah, blah, blah.' I said, 'We really can't.' "
The Chevy Cruze, the compact sedan that competes directly with the Toyota Corolla, is the oldest car in the Chevrolet lineup. A new, badly needed version was slated for the U.S. next year but was delayed until 2015 to allow for a redesign. It was a decision that Old GM wouldn't have made, Reuss says. "That car is the franchise on a volume basis for this place," he says. "For every Cruze we have out there, there are five Cobalts out there reminding everybody what we used to be. We can't do that anymore."
GM remains committed to electric and will introduce a natural gas-powered Impala. While the Chevy Volt technology is perfectly engineered for most drivers—who, after all, can drive as far as they want—Akerson concedes that GM has failed to change the conversation about electric vehicles. "I'll take the hit for that," he says. As Tesla's market value began gaining ground earlier this year, heading past $12 billion, Akerson took note. A special team was set up to study how Tesla might disrupt the industry.
Although GM has hinted that it's working on a next generation of electric vehicle, Akerson says it's aiming for a compact car that can go 200 miles on a charge and carry a generator, too. While it will be similar to the Volt, engineers are working on generators that could run on gas, diesel, or natural gas. The increased electric range is coming, in part, from advances in battery chemistry. GM is planning to bring the model out in 2016, for about $30,000, according to a person familiar with the idea who asked not to be named because the plans aren't public. It's a project that the company doesn't want to say much about but signifies how it's been trying to move past inventing things to putting inventions into showrooms. "We want it to be a moon shot so we can surprise the competition," Akerson says.
 
 
Winding down his almost 70 minutes with engineers and designers in November at the Tech Center, Akerson became reflective. "I have tried to put my heart and soul into this thing to make a difference," he says. "But I'm 65. For those of you that are 35, 45, and 55 out there—I'm sure there are some 25s, I can't remember when I was 25—you are the inheritors of this resurgent, transformed GM. It's a precious thing that has to be grown," he says. "It's up to you."
Barra is now the public face of GM. She's destined for a lifetime of discussions about the role of women in corporate life, and will have to worry about making cars for at least a few years, too. She will have to think about Toyota, the rise of new players like Tesla, running a company in a bankrupt town with a declining population, and aggressively searching for talent, even if it means passing over friends.
Barra learned she was going to become CEO just a couple of days before the announcement, she says, though she declined to talk about the conversation with Akerson. "Obviously, I was thrilled," she says. "I didn't dream this would happen. … This is an industry that's in your blood, it's an exciting industry, it's a tough industry, but again it's not something that I dreamed of as a child. But I knew I wanted to be an engineer, and once I started in the car business, 30 years later I'm still here."
"Mary may have been here 30-odd years, but I can tell you that I believe, know—and I think the board believes and knows—that Mary is a change agent," Akerson says on the day of the announcement. "There are a lot of great things, a lot of great people at General Motors. There was a generation, I would say Mary's generation of management, that had to learn from mistakes that were made. … Young up-and-coming leaders of General Motors learned a lot from the prior generation, good and bad, and Mary was a very astute student."
 
 
Akerson will fade, at least for a while, from the news, though a U.S. Navy veteran who turned around an icon may find himself considering all kinds of options. Two months before announcing his retirement, before he even knew his wife was sick, he watched the Navy-Air Force football game from a skybox at Navy-Marine Corps Memorial Stadium at the U.S. Naval Academy in Annapolis, Md. Akerson graduated from the academy in 1970 and served five years in the Navy, including time on a destroyer, as the Vietnam War wound down.
His skybox is like a man cave or little secret clubhouse in the air, so it was perfect when Roger Staubach burst through the door, striding in to join the gang. "Hey!" he cries. "That was a lot of stairs!" Staubach, of course, won two Super Bowls as the quarterback for the Dallas Cowboys after serving in the Navy during Vietnam, so the stairs shouldn't be a huge deal. Still, that was a while ago, and Staubach's in his sixties. When he arrives, the 10 or so people in the room suddenly form a reverent semicircle around him. In the middle is Akerson.
"So," says Staubach, "do I get a discount on a Suburban for coming all the way up here?"
Akerson smiles and shakes his head in a not-gonna-happen way and glances at the flat screen behind Staubach. Today he wears a special football-style white polo shirt made of some kind of heat-wicking material, with a collar and the Navy logo.
Down on the field, it's the third quarter. The stands of Memorial Stadium are filled with midshipmen in their white uniforms with their white hats with their enormous white round tops. They all run out onto the field and do pushups whenever Navy scores. Akerson and Staubach are generous donors, and the academy trotted them out on the field at halftime to thank them. They've known each other since the '80s, when Akerson ran MCI and Staubach was going into real estate. It is an unusually hot day for October. "But it's nice up here," says Staubach. "The air is cooler than in my suite."
"We get the air first," says Akerson. "Then we send it down."
Staubach and most of the others in the room, including retired Admiral Mike Mullen, former chairman of the Joint Chiefs of Staff, are graduates of the academy, and they retain a love for the bluff banter of the services.Mullen is on the board of GM. While Akerson and the rest turn to the game below, Mullen says, "I've known Dan about a year. I met him at the game here last year. He asked me if I wanted to join the board, and I said I would. I don't know about business, but I know a lot about managing large organizations." GM is not as large an organization as it was, but it still employs about 212,000. "Nobody knows everything about GM. You can't. Nobody can. It's too big," says Mullen. "But you can pick the right people to work with you, and Dan can do that."
Later, Staubach mentions he was surprised when Akerson took the job. He motions to Akerson and asks, "You knew what you were getting into?"