EU Tempts Ukraine Into Pact as Russian Tussle Escalates
James G. Neuger, Daryna Krasnolutska and Kateryna Choursina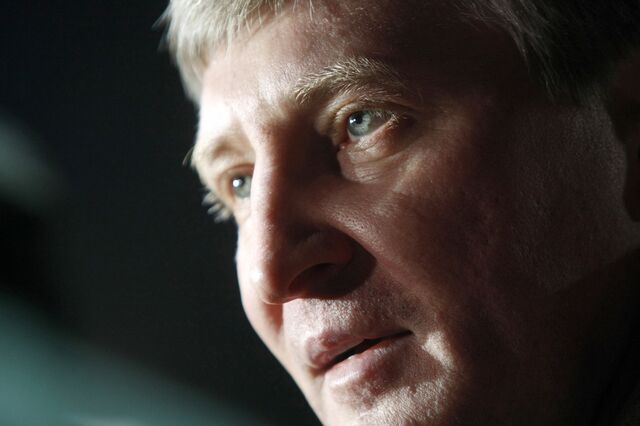 Ukraine's richest man called for talks to end a political standoff as the European Union tussles with Russia over the former Soviet republic's future.
Rinat Akhmetov urged a compromise as anti-government protesters gear up for another weekend rally. The EU offered development funds if Ukraine signs a trade pact with the 28-member bloc and taps International Monetary Fund aid for its shrinking economy. Russia said its proposal for its neighbor to join a rival customs union is becoming more attractive.
"Politicians, government officials, opposition, and moral leaders of the country must sit down at the negotiating table and make a decision we will be proud of," Akhmetov said today in an e-mailed statement. "I am for a strong, independent and united Ukraine. We are one country and should not be divided."
Ukrainian President Viktor Yanukovych triggered the biggest street protests in almost a decade by backing out of planned EU association and trade accords last month. The offer from the trading bloc and a planned Dec. 15 mass demonstration by Ukraine's pro-European opposition put the spotlight back on the leader, who's facing demands for snap elections.
During the night, about 13,000 people were on Independence Square, the focal point of the 2004 Orange Revolution, the Interior Ministry said. Several thousand voiced their support for the authorities near parliament today, Interfax reported.
Yanukovych Backer
Akhmetov, who backed Yanukovych's presidential campaign, is world's 86th-richest person with a fortune of $12.6 billion, according to the Bloomberg Billionaires Index. His System Capital Management has interests in metallurgy, mining and energy.
The yield on Ukrainian dollar debt due in 2023 declined 2 basis points, or 0.02 percentage point, to 10.25 percent at 11:10 a.m. in Kiev, the lowest since a Nov. 30 police crackdown on protesters, according to data compiled by Bloomberg. The hryvnia was little changed at 8.2813 per dollar.
EU Enlargement Commissioner Stefan Fule said yesterday that money would be available to Ukraine if it completes agreements with the bloc. He gave no figures.
"The faster Ukraine clarifies its intentions, the faster we can both start and finish our work," Fule said in Brussels at a joint news conference with Ukraine's First Deputy Prime Minister Serhiy Arbuzov after the two met.
Default Risk
Arbuzov, who said Dec. 7 that Ukraine needs at least $10 billion to avoid a default, said talks with the EU will continue and the government will sign the deals soon.
Yanukovych said Dec. 10 that he intends to sign the EU accord at a March meeting and restart talks with the Washington-based IMF if "conditions are acceptable." Ukraine is seeking 20 billion euros ($27.6 billion) in financing from the EU, Prime Minister Mykola Azarov said Dec. 11.
Speculation last weekend that a deal was close to joining Russia's customs union has added to anger, firing up a Dec. 8 rally that drew about 500,000 people. As the union expands, Ukraine's interest will grow, President Vladimir Putin said yesterday.
Putin and Yanukovych will sign a package of agreements on Dec. 17 at a meeting in Moscow, the Russian leader's foreign-policy adviser, Yuri Ushakov, was quoted as saying yesterday by Interfax. Ushakov declined to say whether they would strike an accord on gas prices, Interfax said.
'Any Decision'
The choice between closer ties with Russia or the EU is Ukraine's and Russia will support "any decision" it makes, Russia's First Deputy Prime Minister, Igor Shuvalov, said in an interview with state television.
Ukraine is facing increasing political pressure, with the U.S. saying it's considering sanctions against the country in response to a crackdown on anti-government protesters and European lawmakers ratcheting up criticism of Russia.
Hundreds of riot police with shields flooded into a camp built by protesters in the early hours of Dec. 11 to dismantle makeshift barricades and and a tent encampment. They eventually retreated, with activists rebuilding their wooden and metal barriers, shoring them up with sandbags and mounds of snow.
The authorities are preparing a "large-scale provocation" on the weekend as a pretext to introduce martial law and deploy the army and riot police to break up the weeks-long protests, opposition leader Arseniy Yatsenyuk told Radio Liberty.
Rival Event
Yanukovych's supporters started to set up a stage at a nearby square in the capital this morning for a rival rally scheduled this weekend, television Channel 5 reported.
All policy options, including sanctions, "are on the table," U.S. State Department spokeswoman Jen Psaki said Dec. 11 in Washington.
U.S. Defense Secretary Chuck Hagel called on his counterpart in Kiev, Pavlo Lebedyev, to avoid involving the military. Lebedyev told him that Yanukovych's position is to not deploy troops in confrontations against the protesters, according to a statement from the Pentagon.
"We all are interested in the events in Ukraine coming to an end peacefully," Shuvalov said Dec. 11 in Washington, according to state news service RIA Novosti.
Even so, the EU accuses Russia of pressuring Ukraine to join its customs union by threatening trade sanctions. European lawmakers yesterday urged the 28-member bloc to "consider possible countermeasures" against Russia in the spat.
Yatsenyuk called on Ukrainians to rally for a third-consecutive Sunday this weekend in Kiev and has rejected an offer of talks with Yanukovych.
Barring a "dramatic political move" such as calling early elections, "Yanukovych is now down to two simple choices, either to accept a deal with the EU/IMF or accept what has been tabled by Russia," according to Chris Weafer, a senior partner at Moscow-based Macro Advisory.
Before it's here, it's on the Bloomberg Terminal.
LEARN MORE