Damon Baehrel, Chef of Most Exclusive Restaurant in the U.S., Opens Up
Damon Baehrel, the chef-owner of America's most exclusive restaurant, opens up
Sean Patrick Cooper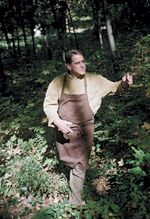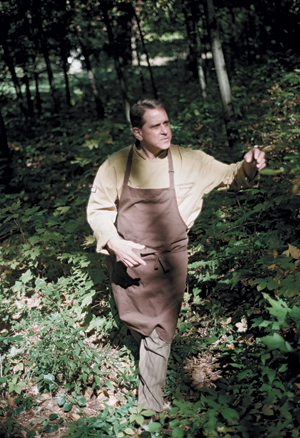 Damon Baehrel is making dinner out of the scrub brush next to his blacktop driveway. First he takes some sumac leaves and steeps them to make tea. Then he adds liquefied wild violet stems cut from his yard, as well as a dozen varieties of grapes cultivated in his garden. He freezes all of this together and serves it on a spoon as one refreshing bite. Baehrel calls it sumac-flavored ice slush and uses it as a palate-cleanser during the 15-course meal he creates nightly for 18 food-obsessives. Many travel three hours from Manhattan—some even fly in overnight—to pay $255 (before wine and tip) for the privilege of eating in the basement of a modest clapboard home in Earlton, N.Y.
Formerly known as the Basement Bistro and now simply called Damon Baehrel, the 12-table restaurant has a five-year waiting list. Patrons have come from 48 countries, and celebrities such as Jerry Seinfeld and Martha Stewart regularly visit. The Obamas reportedly requested a table in 2011, but Baehrel, who prefers to keep his guest list private, won't confirm or deny this. He doesn't have to worry about loudmouthed waiters, either: "You've probably realized I work completely alone here," Baehrel says each night before service begins. "I'm the chef, the waiter, the grower, the forager, the gardener, the cheesemaker, the cured-meat maker, and, as I will explain, everything comes from this 12-acre property."
Farm-to-table dining is old news—at this point, even McDonald's touts its farmers and ranchers in feel-good ads. Increasingly, though, entrepreneurial chefs are doubling down on the eat-local trend and bringing customers into their own homes (or cozy approximations thereof). At these culinary salons or underground restaurants, as they're often called, professionally trained cooks host for-profit dinner parties in unexpected spaces. There's Wolvesmouth in Los Angeles, where chef Craig Thornton invites patrons to come to his house and pay what they want; City Grit in Manhattan, which rotates Top Chef winners through a downtown furniture store (yes, the communal dining table is for sale); the Underground Restaurant in London; Supper Underground in Austin, Tex.; and Hush Supper Club in Washington and Chicago. The food world revolves around hype—the harder it is to get into a restaurant, the more people want to go—and so culinary tourists obsess and war over the limited space at these secret spots.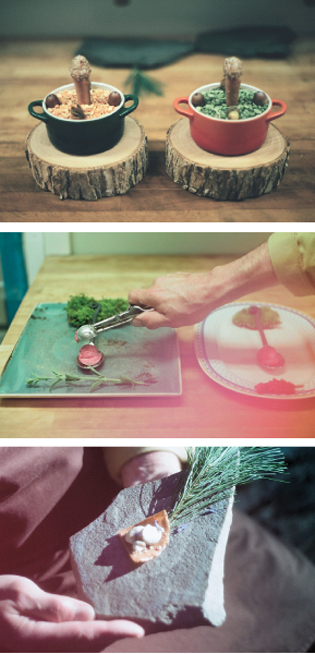 Baehrel's might be the most secret of all. He has no staff, unless you count his wife and a tech-savvy friend, who help him manage the reservation e-mail address posted on his website. He spends no money on marketing and doesn't have a business manager cultivating endorsement deals. There have been no profiles of him in major food magazines nor write-ups of his restaurant in any newspapers. In spite of this, or possibly because of it, the wait time just keeps getting longer.
The chef, who's 51, isn't classically trained. He learned how to cook from his mother, an avid gardener, and also from years doing odd jobs in mountain-resort kitchens in the Northeast. "I learned bits and pieces along the way, but I never did the research, never looked in a cookbook. In my family, we just learned to do it ourselves, and the inspiration came from nature," he says. After an injury in 1985 derailed his nascent career as a professional motocross racer, Baehrel and his wife bought their land and opened a catering business specializing in foraged food. It eventually morphed into the bistro concept in 2006 and since then has relied almost entirely on word-of-mouth buzz.
"What he's doing is revolutionary," says Michael Chernow, co-owner of New York's chain of Meatball Shop restaurants, who visited after a friend recommended it. Chernow was so inspired that he bought land nearby—Baehrel regularly swings by to teach him what he can grow. "With his skills, it's like he's the Michael Jordan of culinary art," Chernow says.
Baehrel has a thing for molecular gastronomy; his small bites are dehydrated, infused, and tinctured on their way from lawn to mouth. All of that work happens in a red and white-trimmed kitchen-as-barn the chef built himself. It could pass for a rustic guesthouse. He keeps the space meticulously clean, laying down plastic sheets every few days to protect the linoleum floors. On steel prep tables sits the usual restaurant gear of blenders and food processors; neatly organized shelves store hundreds of containers of carefully labeled ingredients such as powdered bracken ferns or pickled maple leaves. "It occurred to me one day—and this was really an epiphany, 25 years ago—that everything I needed was here," Baehrel says. "And I was going to spend the rest of my life developing and exploring what was possible."
This hyperlocal, hyperunderground strategy is paying off. Baehrel won't provide exact numbers but says he serves a few thousand guests each year and generates annual revenue of at least $750,000. By contrast, a successful restaurant in Manhattan's crowded West Village might break the $1 million mark, though the business model is much different. Baehrel's expenses are less predictable each season; they can include one-off big-ticket items such as a $5,000 trailer or a $10,000 hauling cart. But with no payroll or mortgage, and no food vendors except for his wine, seafood, and meat, which is from a local farm stand, he can stay both small and successful. "The biggest risk," he says, "is that it's just me there."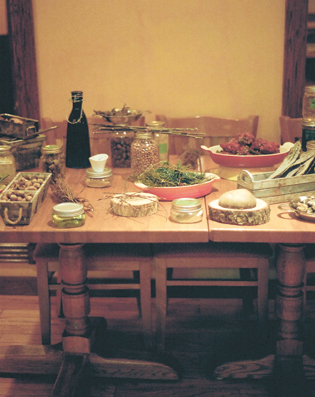 Before guests arrive each night, Baehrel arranges a table with a sampling of the raw ingredients used to prepare the menu. As he serves each course, the chef narrates the story of its creation, using twigs and weeds as visual aids. At a dinner in September, he brings out a triangular cracker made of pine-tree flour and a stack of tiny beech mushrooms. He explains how, two springs ago, he chopped down a pine tree and removed the bark by hand, uncovering a pulpy, white substance between the inner and outer layers. He brought this to his greenhouse, he tells the rapt diners, and soaked, dried, and cured it in a multistep process lasting almost a year. Finally, Baehrel says, he ground the pulp by hand in a stone bowl until it was powder.
"Native Harvest is more than the cuisine; it's my way of life. It's living off the land, and it's fun to watch nature reveal itself," Baehrel says. The three-bite dish has an appealingly musty mushroom taste. Sixteen dishes follow over the next five hours, some bite-size and others hearty courses of scallops, steak, and chicken. "He doesn't use any dairy or butter in his cooking, and yet his sauces are creamy and delicious," Chernow says. Each course is somehow improved by Baehrel's monologue about the effort it takes to produce.
Perhaps that's why the mainstream food world has finally started to take notice. Earlier this year, Damon Baehrel earned one of the country's highest Zagat ratings: 29 for food and 28 for service, out of a possible 30. Baehrel also won his first James Beard nomination, as best chef in the Northeast in 2013. As it stands, the wait list for dinner stretches well into the back half of this decade. As the once-secret restaurant becomes less so, a new puzzle emerges: How does one score a table before Baehrel retires? He acknowledges that eventually he'll have to stop taking reservations. "It's a good problem to have."
 
Table for four? Does "never" work?
The five toughest restaurant reservations in America
 
Chef's Table at Brooklyn Fare
Brooklyn, N.Y.
Co-owner Cesar Ramirez serves a seafood-heavy menu directly onto his kitchen's stainless steel bar at the borough's only restaurant with three Michelin stars. For the 18 seats, reservations are taken only by phone, six weeks in advance, on Mondays at 10:30 a.m.
Cost per person: $255
 
The French Laundry
Yountville, Calif.
Thomas Keller's Napa Valley eatery offers a nine-course menu in which none of the peak-season ingredients is used more than once. You can book two months out by phone, assuming you don't get a busy signal. If you reach a human, your name may land on the wait list.
Cost per person: $270
 
Talula's Table
Kennett Square, Pa.
The highlight inside the small space is the "farm table." Seating 12, it has a menu that changes monthly; December features chowder and short ribs. Dinner starts promptly at 7:30 p.m.—if you're late, you go hungry. To get in, you have to call exactly 365 days in advance.
Cost per person: $140
 
Next
Chicago
Chef Grant Achatz's menu changes every four months—January is "Chicago Steakhouse." There are no reservations; the prepaid tickets that are sporadically available cost different rates depending on date and time, and they're often announced only on Facebook.
Cost per person: $65 to $365
 
Minibar by José Andrés
Washington
This restaurant, which has just 12 seats, specializes in the Spanish chef's molecular gastronomy. Its website says reservations are "in short supply, but available to the passionate." Send an e-mail request at precisely 10 a.m., exactly a month in advance, then hope for a response.
Cost per person: $250
Before it's here, it's on the Bloomberg Terminal.
LEARN MORE