Congress Complains to Obama Over Alleged Keystone XL Conflicts of Interest
By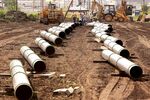 In a letter being sent today to President Obama, 25 members of the U.S. House of Representatives urge him not to release a pending supplemental environmental impact statement (SEIS) needed for approval of the controversial Keystone XL pipeline. The legislators call for an on-going Office of the Inspector General investigation, due in February, to be completed before the release of the SEIS.
Spearheaded by Raúl Grijalva (D-Ariz.), the letter, a copy of which was obtained in draft form by Bloomberg Businessweek, accuses the U.S. Department of State—which is tasked with evaluating the proposed pipeline because it crosses an international border—with "overlooking" potential conflicts of interests when it accepted Environmental Resources Management's bid to perform the SEIS. "Because of allegations that ERM lied to the Department of State to get the contract, we believe no EIS from the company—draft or final—should be accepted by the administration before these issues are resolved," Grijalva and his co-signees write.
Back in July, we noted that activists opposed the Keystone XL pipeline were calling attention to conflicts of interest between ERM, a British-based outfit, and TransCanada, the company that wants to lay the pipe (and that stands to gain the most from its operation.) We also recalled that previous charges of conflicts of interest, back in 2011, had resulted in an effective do-over of the SEIS, delaying a decision on the project. (Grijalva's letter links to our July post, which reported on a document secured by Keystone opponent Friends of the Earth. That document indicated that an ERM consultant had worked for TransCanada within the last five years, a breach of the terms State had set out for the contract if true.)
Whether this Congressional appeal sets back a final decision on the pipeline remains to be seen. But those who've followed the fight over this last segment of pipe linking Alberta's tar sands to the Gulf of Mexico can be forgiven for feeling like they're in a petro-business adaptation of Groundhog Day.
Before it's here, it's on the Bloomberg Terminal.
LEARN MORE