Byron Allen, Former Stand-Up Comic, Runs the 'Walmart of Television'
You may not have heard of the low-budget shows produced by this stand-up comic turned media mogul, but they're the future of TV—and he's killing it
By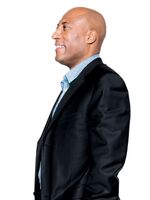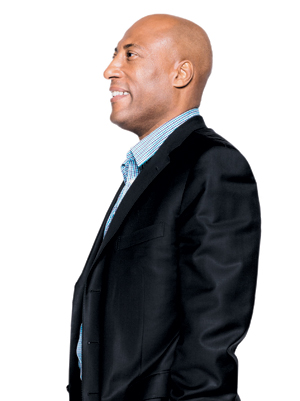 Jon Lovitz is in a duck costume. "I am the duck!" the former Saturday Night Live star announces. "Stand back, or I will quack you upside the head." Bill Bellamy, a comedian best known for his days as an MTV VJ, looks on in bemused dismay. The puns progress: "You know how I'm holding my suit together? With duct tape!" Lovitz shouts. "What's wrong, you don't like a wise quacker?"
It's nearly six o'clock in the evening, and the comedians have been going since 9 a.m., shooting episode 27 of a slapstick sitcom called Mr. Box Office. Bellamy plays a Hollywood star who, after an altercation with a paparazzo, is sentenced to six months of teaching high school in inner-city Los Angeles, and Lovitz plays his wacky agent. It's an inoffensive, family-friendly show produced on the cheap: While most sitcom episodes are reworked and filmed over the course of one week, today's goal is to capture an entire, unrehearsed episode in less than 10 hours. "Oh, this is crazy," Bellamy says during a quick break. "Nobody does this. It's unheard of." Compared with even the worst-performing network sitcoms, the show reaches a minuscule number of viewers. "It'll be on in L.A. at six in the evening on Saturday, or other parts [of the country] at two in the morning," Lovitz says. "Hardly anyone sees it."
Mr. Box Office is the brainchild of Byron Allen, a longtime comedian and talk show host turned media titan who says he's figured out a way to gross almost $100 million annually off shows most people have never heard of. Allen, chairman and chief executive officer of Entertainment Studios, a production and global distribution company, is among the first independent Hollywood executives to capitalize on television's changing economy. His strategy: Cheaply and efficiently churn out thousands of hours of content, then license the programming for free to more than 1,300 broadcast television stations covering 89 percent of the country. "There are an awful lot of places here and around the world that need content," says Gary Carr, a senior vice president for the media agency TargetCast. In exchange, Allen gets control of 50 percent of each show's ad time, which he sells to companies such as McDonald's and Procter & Gamble by guaranteeing a certain number of viewers across all Entertainment Studios' shows.
In the 20 years since he founded Entertainment Studios, Allen has become remarkably successful at meeting that demand for content by eschewing the sumptuous production values of shows such as Game of Thrones or Mad Men. Instead, he simplifies scripts, eliminates time-consuming costume and set changes, uses actors who need little rehearsal, and hires cheap, temporary, nonunion crew members. "Give people a month, and they'll take a month," Allen says. "Give them a day, and they'll take a day." Quality is not lost, he says, but the bar isn't necessarily high. "We're not saving lives here. We're filling time. We're just looking to make people laugh."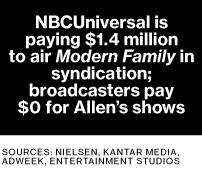 Allen isn't the only independent syndicator, but his cost-cutting method of marathon production and self-distribution is singular. Most production companies license shows for cash rather than barter for ads, because it's hard to make up production costs solely from advertising. On the other hand, plenty of stations can't afford to buy shows, and plenty of advertisers can't pay the prices commanded by highly rated network programs. That's where Allen comes in. "We're in the television real estate business," he explains. "We offer, across all our television shows, probably 20 million to 25 million viewers a week." Says Carr: "His profit margins may be razor-thin. [He just has to] make something decent enough that distribution partners are happy, and over time the money will roll in."
So far, Allen's under-the-radar bid to dominate the low end of TV has earned him a nice lifestyle: a fat, black Bentley, a Fifth Avenue apartment in New York, and a $17 million Beverly Hills mansion, where he lives with his wife of six years and their three children. But his tactics have drawn detractors. Former crew members talk about low wages, and both the International Cinematographers Guild and the Writers Guild of America have filed complaints against Entertainment Studios for unfair business practices. Allen won't comment on the complaints but says that his pay scale is commensurate to experience and talent.
Allen has also angered members of his original tribe: comedians. In December 2012, comics Bernadette Pauley and Thomas Clark filed two class actions about Entertainment Studios, seeking to represent about 400 comedians and actors, for various alleged offenses, including the failure to pay residuals (payments given to actors for reruns). Allen has no comment on the suits but makes no apologies for his lean business model. "We have a factory mentality. We focus on cost, cost, cost, and driving it down, because we know the more we spend, the higher the rating has to be," he says. "I think of us as the Walmart of television."
 
 
Allen, 52, has the expansive charm and easy smile of someone who's spent most of his life on television. He's dressed in a loose-fitting black suit, gingham button-down, and black suede loafers with silver buckles. Giving a tour of Entertainment Studios' newly leased 75,000-square-foot production space in Culver City, Allen says he built his empire from scratch, in part because, as a black man, he had to. "Over the 20 years, I've seen my white counterparts have access to enormous amounts of capital, and in 20 years nobody's ever offered me a nickel," he says. "It made me stronger, it made me work with different disciplines."
Born in Detroit, Allen moved to Los Angeles with his mother, Carolyn Folks, at age 7 after she split from his father, an electrical engineer who worked on the assembly line at Ford Motor. His entrepreneurial instincts kicked in early, partly because of his desire to help out at home. "You don't want to be a burden for a single mom," he says. "There was talk of my mom not being able to keep me because of financial challenges, so as a 7- or 8-year-old, hearing that, I started hustling … and I never stopped." After reading about a millionaire bait salesman in a newspaper article, 10-year-old Allen promptly bought a bucket of worms. "I thought I'd double my money every 30 days," he says. "But in my business plan, I didn't count on the rats getting in [the garage] and eating up all my inventory." Allen's mother, a soft-spoken, elegant woman, giggles as she recalls the incident: "It was a nasty business."


Growing up, Allen spent a lot of time home alone, watching TV. When his mother started working as a page for NBC in 1972, he sometimes tagged along. There, he watched the filming of The Tonight Show Starring Johnny Carson, The Flip Wilson Show, and Freddie Prinze's Chico and the Man. "It was like a playground for him," Folks says.
When he was 14, Allen devised a comedy routine and asked his mom to drive him to a local open-mic night. He got few laughs but kept going back. Lovitz caught one of Allen's performances in 1978. "I remember Byron, because they said he's still in high school, he had to finish his homework before he got here," he says. "I was really impressed." Actor Jimmie Walker, best known for his work on the 1970s sitcom Good Times, was impressed enough that he hired the teenage Allen to write material for his stand-up routines, along with two then-unknowns, David Letterman and Jay Leno, who was sleeping in a car at the time, Allen says. "I was getting $25 a joke," he remembers. "[Walker] took maybe one or two a week."
At 18, Allen got his big break when The Tonight Show invited him to do a stand-up set on-air. Two weeks later, NBC hired him to co-host Real People, a hit show featuring normal people with unique hobbies and talents. The program ran on prime time from 1979 until 1984; all the while, Allen took notes on the business side of entertainment. Acting, he realized, would never cut it. "What's a big star?" he asks. "You're the flavor of the month until they like another flavor. I wanted to have more control over my destiny."
After Real People ceased production, Allen tried his hand at screenwriting and then hosted his own talk show for a few years. In 1993 he founded Entertainment Studios with the help of his mother, who still works with him as the company's president and executive producer. Alfred Masini, creator of Star Search and Lifestyles of the Rich and Famous, was a mentor. Allen's initial plan was to get one program on the air: Entertainers with Byron Allen, a celebrity talk show set in hotel rooms. "I called all 1,300 TV stations, and I asked them to carry the show for free for about a year," Allen says. After getting "40,000 no's, about 150 said yes." An even bigger challenge was getting companies to advertise during the show. "My home went in and out of foreclosure probably 14 times over a three-year period," he says.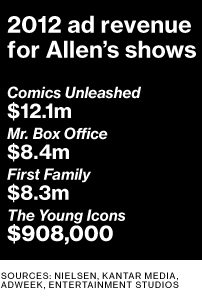 Little by little, advertisers came on board. Allen, with no startup capital and no loans, put his earnings back into expanding his business. He owns 100 percent of Entertainment Studios, which has amassed a library of more than 4,000 hours of programming—mostly reality-TV shows, talk shows, comedies, and court shows. He produces about 10 new hours of content each week. Currently the company has 27 shows on-air, including Kickin' It with Byron Allen and The Young Icons, a reality show about remarkable kids. Allen's most popular creation, Comics Unleashed, a talk show with comedians, pulled in $12 million in ad revenue last year, according to research firm Kantar Media—even though the show averages only 241,000 viewers, according to Nielsen, and hasn't taped a new episode in years. (In New York it plays on WCBS weeknights at 1:37 a.m., after The Late Late Show with Craig Ferguson.)
"I knew that if I knew all the television stations and all the advertisers, that we could create and put as many shows as we want on the air," Allen says. "Ideas are a dime a dozen. The key words are execution and distribution." Entertainment Studios employs 50 to 100 people, depending on production activity, and sells ad time to roughly 100 companies. An oft-repeated Allenism: "I'm a 30-year overnight sensation!"

Last fall, Entertainment Studios rolled out its first sitcoms, Mr. Box Office and The First Family, about a family in the White House. Both are licensed to Black Entertainment Television's Centric cable channel for 104 episodes each; they subsequently air on broadcast stations nationwide. The casts include familiar names, including Vivica Fox, Gary Busey, Tim Meadows, and Keshia Knight Pulliam (who played Rudy Huxtable on The Cosby Show). Allen also owns seven 24-hour HD networks, including Cars.TV, Pets.TV, Comedy.TV, and Justice Central. Typical fare includes a look at the joys of alpaca ownership, a dramatic kitten rescue from under a home's floorboards, and the customized rebuild of a 1960s Ford Mustang (a Cars.TV episode for which Entertainment Studios won a Daytime Emmy). "I took the magazine stand and converted it into networks," Allen says. "People will always be interested in cars, travel, movie stars, and entertainment."
Fifty percent of the material on the 24-hour networks also gets distributed to broadcast stations to bring in additional revenue. His shows are carried on YouTube premium channels as well, and on international networks such as the Caribbean Broadcast Corp. Two years ago, Entertainment Studios launched SmartTV.com, a digital service that lets viewers subscribe to one HD network for $1.99 per month, or access the whole portfolio for $9.99 and watch it on any TV, PC, or mobile device. "Content will always be needed, no matter the medium," Allen says. "Content is the new oil."
The biggest share of Entertainment Studios' revenue comes from its unique brand of courtroom drama. While long-running shows such as Judge Judy feature actual plaintiffs and defendants who have agreed to accept the legal outcomes of their televised trials, Allen's versions star scripted actors who go through the motions of a trial but have nothing at stake. This saves millions of dollars, he says. "We don't have the cost of airfare, hotels, security; we don't have the costs of the claims, the settlements." Entertainment Studios is America's largest producer of court TV, with five shows: America's Court with Judge Ross, We the People with Gloria Allred, Justice for All with Judge Cristina Perez, Supreme Justice with Judge Karen, and Justice with Judge Mablean. Allen purchased one courtroom set for $1 from a company looking to scrap the décor. Already profitable after airing on broadcast television, the shows reach an additional 5 million homes through cable providers such as AT&T U-verse and CenturyLink, among other services. People love legal programs, Allen says, because they have "a winner and a loser." More important, they also draw legal-industry advertisers, who offer a substantial pool of money for local stations.
 
 
Allen's studio may operate like a factory, but some employees have worked with him for decades, and many say they enjoy it. "He's a comic. Working with him is like working with a mentor," says stand-up Tony Roberts, who plays Bellamy's lazy mooch of a friend on Mr. Box Office. "And he has his hands in everything, like Oprah." Lovitz is thankful to be working on a sitcom guaranteed to make 104 episodes. "I want to work," he says. "Look at all the shows with these major stars now: They'll shoot two shows and cancel it, and that's on ABC, NBC." Lovitz adds, "Byron is a great guy, a good friend, and I'm grateful that he hired me."
Several former crew members, however, say Entertainment Studios exploits nonunion workers, paying them on average $450 a week; a unionized crew member doing the same job makes that much in roughly one day, according to Media Services, an entertainment payroll and software company. To those people, Allen says, "It's a free market. You don't have to work here. … A lot of these kids that we hire are in their twenties, fresh out of college with no experience." Media Services says that shows made under a certain budget don't mandate hiring union actors. When crew members attempted to unionize in April, Allen threatened them and fired two employees, alleges David Behm, western region director of the International Cinematographers Guild. "He called everybody together on the stage," Behm says. "He said if they went union he'd fire everyone and hire people with more experience; he also said he would move to another state where the union organizing is not as strong." Allen declined to comment on the Guild's allegations.
Then there's the matter of the angry comedians. Court documents show that Pauley and Clark, stand-ups who performed on Entertainment Studios' Comics Unleashed and Comedy.TV in the 2000s, sued for breach of contract, unfair business practices, and failing to pay an estimated 400 performers their due wages and expenses. "The only thing we're interested in is getting paid what we were told we'd be paid," says Pauley, who hosted several episodes of Comedy.TV. "The show has been playing constantly for years. … We get Facebook messages every day, we get tweets every day, we get people on our fan pages saying, 'Hey, I just saw you in Ohio on that show'… [and yet] I've never met another comedian who's gotten a residual from Comedy.TV."Allen won't comment except to say that legal issues are common for all companies. The civil cases have been moved to federal court, and the date for trial hasn't yet been set, according to Pauley's lawyer.
Film and music producer Mark Skeete also sued Entertainment Studios over what he alleges was the illegal distribution of Crunk Kings, his documentary about Grammy-winning rap stars Lil Jon & the East Side Boyz. Skeete says the initial agreement with Allen, detailed in a preliminary term sheet, allowed Skeete an advance of $30,000 and 70 percent of proceeds from DVD sales. When the actual agreement papers arrived, Entertainment Studios requested a licensing deal, rather than a distribution deal, that Skeete says cut him out of all profits. "I never signed the agreement, and they just said heck with it, we gonna run with it." Skeete earned a paralegal certificate so he could better represent himself in court. Last December, Skeete says, Entertainment Studios denied liability but settled for an undisclosed sum, which Skeete used to enroll in Harvard University Extension School classes, with the aim of going to law school.
"On the bright side, [Byron Allen] has enhanced my life," says Skeete, who finished his first semester last year. He's less generous about the quality of Allen's shows. "He's not a Tyler Perry, no way near," Skeete says. "Tyler Perry speaks to the African American community every time. Byron Allen, he's just trying—I don't know what he's trying to do."
Back on the Mr. Box Office set, the cast and crew are almost through the final scene of the day and slightly ahead of schedule. Lovitz is perfecting his duck puns. Bellamy and Roberts are shooting the breeze, waiting for the camera to roll. Director Ted Lange—who played Isaac the bartender on The Love Boat—gives some rapid-fire notes. "Don't make us go overtime," Bellamy teases Lange.
"It's Herculean," Allen says once they wrap, five minutes ahead of schedule. "We managed to shoot the whole episode in one day, and we saved a lot of money." Spirits are running high.
To expand the company, Allen, for the first time, is in talks with potential investors. "If we're going to compete with $100 billion-market-cap companies, then it's prudent to bring in strategic partners and a greater capital source so we can really step it up," he says. He'd even be willing to sell part or all of Entertainment Studios. For now, though, he's focusing on his signature brand of cost-efficient programs. In Allen's opinion, the big studios could learn a thing or two from his model. "They're going to have to stop spending $3 million an episode and figure out how to do it for less, for $250,000 or $500,000, and deliver the same quality," he says. "You have to adapt."
Before it's here, it's on the Bloomberg Terminal.
LEARN MORE