In London, Black Friday Lasts All December
British retailers rely on the holidays even more than Americans do
By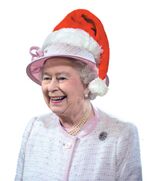 After the flood of Black Friday advertisements and mailings in the U.S., it may be hard for Americans to imagine there's actually a place where retailers are even more desperate to make Christmas sales. Check out Britain.
Britons do a larger proportion of their annual spending in November and December than Americans, making these months more crucial for retailers such as Marks & Spencer Group and Next than for the likes of Saks and Macy's. Christmas in the U.K. is celebrated "more enthusiastically than anywhere else," says Marc Bolland, the chief executive officer of Marks &Spencer.
Five years of economic hardship have raised the impact of the U.K.'s holiday spending peak, says Ian Geddes, U.K. head of retail at consultants Deloitte. "If households haven't got the money, they'll tighten the belt all year," he says. "The one time they will make a big splash is Christmas."
U.K. retail sales in November 2012 were 15 percent above the average for the first 10 months of the year and 37 percent above the average in December, government statistics show. In the U.S., November 2012 retail sales were 11 percent above the 10-month average, and for December the increase was 31 percent. As Britons spend long nights reveling with friends, colleagues, and families, sales at pubs and restaurants in December typically surge to about 20 percent above the monthly average, says researcher CGA Peach.
One in five customers at Wal-Mart Stores' Asda supermarket chain in the U.K. will start saving in January for Christmas, the grocer estimates. Such attitudes have spurred stores to stake their claims to customers ever earlier. Asda opened its reservation lines for Christmas food deliveries on Nov. 21, two weeks earlier than in 2012. By that date, M&S and rival John Lewis Partnership were already almost three weeks into lavish television ad campaigns promoting the season. "It starts so early that when Christmas Day finally arrives, I'm tired of it," says Claire Landon, a 37-year-old New Yorker who's lived in London since 2000.
Americans spend more evenly throughout the year, partly because of shopping-centric occasions such as Valentine's Day, Mother's Day, and back to school in September, says Chris Donnelly, a Chicago native who lives in the U.K. and is global managing director of the retail practice at consultant Accenture. Then there's Thanksgiving, which he says is the primary reason for the trans-Atlantic disparity. The November holiday "acts as a fire wall in terms of Christmas promotions and Christmas spending in the U.S.," he says.
While the U.S. has a relatively short Christmas shopping season this year because Thanksgiving fell on Nov. 28 (last year it was Nov. 22), Britain's countdown started earlier than ever. Pubs and restaurants were urging customers in July to book their Christmas parties, while London's Regent Street switched on its holiday lights on Nov. 9, four days earlier than last year. Christmas bazaars modeled after Germany's festive holiday markets opened in mid-November in London, Birmingham, Manchester, and Leeds, two weeks earlier than similar fairs in Berlin and Frankfurt. By the time the U.S. holiday shopping season got underway with its barrage of Black Friday discounts, U.K. retailers had already been wooing Christmas shoppers for weeks.
TV ad spending in the U.K. is up 7 percent in November and December from the same period in 2012, led by retailers, according to media agency 7Stars. John Lewis, the largest U.K. department store chain, has earmarked more than $11.3 million for a six-week campaign, the centerpiece of which is a two-minute animated ad featuring a bear and a hare. Marks & Spencer's holiday commercial, a fantasy production featuring model Rosie Huntington-Whiteley and actor Helena Bonham Carter, made its television debut on Nov. 6, a day earlier than last year's campaign. "Unlike the U.S., we don't have the other holidays in the second half of the year," says Bryan Roberts, an analyst at researcher Kantar Retail in London. "So Christmas is a full-on consumer orgy—with the predictable retail hangover early in the new year."