Apple's Asia Breakthrough
Deals with top carriers in Japan and China may spur iPhone sales
By , , and
As Apple and Samsung rumble for leadership in the global smartphone market, the Korean electronics giant has enjoyed a big advantage. In China and Japan, Asia's two biggest economies, Samsung had deals with the No. 1 mobile operators to sell its handsets—and Apple didn't. Despite years of trying, the maker of the iPhone couldn't win over China Mobile or Japan's NTT Docomo. The two carriers have 821 million customers combined.
Apple's Asia handicap may soon be a thing of the past. In Japan, Docomo began offering the iPhone in September. Meanwhile, Apple Chief Executive Officer Tim Cook's shuttle diplomacy may be about to bear fruit in China. Although iPhones don't work on China Mobile's homegrown 3G standard, they do on the LTE technology the operator plans to use for its 4G service, which it will likely roll out by early 2014.
The timing of Apple's breakthroughs in Japan and China is no coincidence. Because of their longtime dominance in their home markets, neither China Mobile nor Docomo felt the need to make concessions to offer the iPhone. Yet smaller rivals, such as China Unicom and SoftBank, that have inked deals with Apple are capitalizing on the iPhone's popularity to woo customers.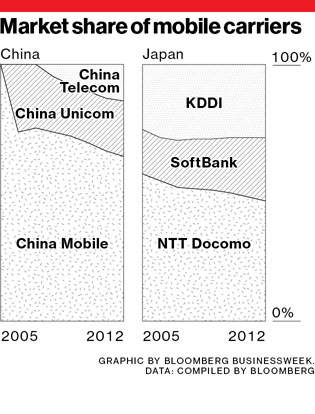 China Mobile still has 62 percent of the Chinese cellular market, but that's down more than 10 percentage points in the past five years. Docomo has endured a similar decline. A pioneer of the mobile Internet in the late 1990s, Docomo has been steadily losing subscribers to scrappier rivals. While SoftBank started offering the iPhone in 2008 and KDDI followed in 2011, Docomo stayed loyal to Japanese brands such as Sony. Since 2005, Docomo's market share has fallen below 47 percent from more than 60 percent.
China Mobile, which is the world's largest mobile carrier, with 759 million customers as of Oct. 31, also faces a new threat from WeChat, a mobile messaging app that offers free voice service. Owned by Shenzhen-based Internet powerhouse Tencent, WeChat claims 272 million users. China Mobile "is under huge pressure to work with Apple now," says William Chou, a partner at Deloitte China.
Apple trails well behind Samsung and local brands Lenovo and Coolpad in China. The company shipped 22.1 million iPhones there in the 12 months ended September 2013, according to Bloomberg Industries analyst John Butler, who figures a deal with China Mobile could add another 18.1 million next year.
Even with China Mobile on board, Apple faces hurdles. The overwhelming majority of China Mobile's customers are of modest means: Less than a quarter have signed up for 3G service. The odds that they'll plunk down $750 for an iPhone 5C are slim. (The average price of a smartphone in China, where handset purchases are not subsidized by carriers, is about $250.) "Because of that, the opportunity gets watered down," said Gene Munster, senior research analyst at Piper Jaffray, in a Dec. 4 interview on Bloomberg TV. "It's still a huge opportunity that can move the numbers."
In Japan the iPhone is already a big hit, accounting for three out of every four smartphones sold in the country, according to market researcher Kantar Worldpanel ComTech. And with Docomo late to the game, the carrier is counting on the iPhone to help it retain customers and win back defectors. Docomo recorded a net gain of 93,000 subscribers in November, a huge improvement on a 66,000 loss in September. Yet it's lagging SoftBank and KDDI in new sign-ups.
The operator has introduced a "Welcome Back to Docomo" discount package for ex-subscribers who are returning after buying a new iPhone and has launched loyalty programs for those who have stuck with it through good times and bad. "The longer you stay with us," Docomo CEO and President Kaoru Kato told analysts in October, "the greater the benefits that you can earn."
Among those who endured years of iPhone envy without bolting is Shunpei Hachiya. The 22-year-old Tokyo student was among the first Docomo customers to trade in his Samsung Galaxy S handset for an iPhone. "It was a bit of a wait," he says, "but it's more of a hassle to change carriers."
Docomo is counting on the iPhone in the runup to New Year's, one of the busiest times for Japanese retailers. "In the winter holiday shopping season, the iPhone will be in full throttle," says Docomo Chief Financial Officer Kazuto Tsubouchi. "We can all fight with [the same] weapon." If all goes well for Apple, that might soon be China Mobile's strategy, too.
Before it's here, it's on the Bloomberg Terminal.
LEARN MORE