A Big Loss for Marriage Equality in Australia
By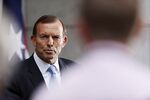 Australian Prime Minister Tony Abbott has a lot in common with Newt Gingrich and Liz Cheney. Like the former House speaker/Crossfire host and the former vice presidential daughter/Senate candidate, Abbott is a proud conservative politician with a national profile. Like the two Americans, Abbott has a gay sister. And just as Newt Gingrich is against same-sex marriage for his sister, Candace Gingrich, and Liz Cheney opposes her sister Mary Cheney's marriage, Abbott doesn't think his sister, Christine Foster, should be allowed to tie the knot with her partner.
Unlike Gingrich and Cheney, Abbott is in a position to make his view into policy. In a victory for Abbott's government, the  Australia's top court ruled on Thursday that she can't. Abbott's sister is engaged to her partner, the Sydney Morning Herald reported in October, but there won't be a wedding soon for her or any other same-sex couples in Australia following the ruling.
The High Court took on the issue of marriage equality after the Australian Capital Territory (which, like the U.S. District of Columbia, is a separate jurisdiction and isn't part of a state) legalized same-sex marriages last week. The court said today the legislation permitting those marriages is unconstitutional.
Australia's short-lived experiment with marriage equality is a victim of in-fighting among Labor Party leaders. Julia Gillard led a successful coup against Prime Minister Kevin Rudd in 2010, with Rudd then returning the favor and ousting Gillard in June. During his subsequent campaign against Abbott, Rudd said a re-elected Labor government would fast-track legislation to legalize same-sex marriage, a promise that may have seemed hollow, given Labor's inaction during its six years in power. Voters fed up with Labor gave Abbott's conservative coalition a landslide victory.
Thursday's ruling confronts Australian gay-rights activists with a more difficult path than their counterparts in the U.S. face. Even before the Supreme Court struck down the Defense of Marriage Act earlier this year, the law merely regulated the way the U.S. government treated marriages and didn't prevent states from legalizing marriage equality. Australia's states don't have that ability, thanks to a 1961 law cited by Abbott's lawyers in their argument to the Court. Marriage in Australia "is a single and indivisible concept," the Australian Government Solicitor wrote in a submission to the court filed on Nov. 13, that under law is "a union between a man and a woman (PDF)."
Thursday's decision therefore came as no surprise. "This result seemed inevitable because Australian laws dictate that marriage laws are created by the federal government," Malcolm Mackerras, a political analyst at Australian Catholic University in Canberra, told Bloomberg News.
Same-sex-marriage advocates say they're not giving up. For instance, Senator Sarah Hanson-Young, a member of the opposition Greens, wrote on her Facebook page "it's clear that we need Federal Marriage Equality sooner rather than later and I have just introduced a Greens bill into the Senate to achieve exactly that." She wants Abbott to allow MPs from his Liberal Party "to vote with their conscience on marriage equality."
Good luck with that. "It's possible that in the future the Commonwealth, parliament will enact laws to legalize same-sex marriage," Mackerras said, "but it doesn't seem likely under Tony Abbott's prime ministership."
Before it's here, it's on the Bloomberg Terminal.
LEARN MORE