Volvo Plans U.S. Comeback With New Engines Amid Lineup Revamp
Alan Ohnsman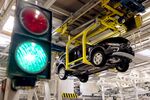 Volvo Cars, the Swedish maker of premium cars owned by China's Zhejiang Geely Holding Group Co., will use smaller engines and a revamped lineup to rebound in the U.S. and take on German rivals by offering more fuel economy.
The company, spending $11 billion on products, technology and plant investments to stage a global sales revival, will show a concept version of a small crossover vehicle at the Detroit Auto Show next month. That's when the Gothenburg, Sweden-based automaker starts adding cars, wagons and SUVs with new turbocharged four-cylinder engines to draw U.S. buyers, said North American Chief Executive Officer Tony Nicolosi.
"Next year we'll probably grow eight to 10 percent," Nicolosi said in an interview yesterday at the automaker's technical center in Camarillo, California. A new marketing push starts in 2014 "to let people know we exist," he said.
Volvo, which Ford Motor Co. sold to Geely in Aug. 2010 for about $1.5 billion, was once famed in the U.S. for vehicles that ranked among the industry's safest. This year, the brand's U.S. sales in the premium auto market have lagged behind those of Bayerische Motoren Werke AG's BMW, Daimler AG's Mercedes-Benz and Audi AG, all up more than 10 percent. Volvo, down 9.1 percent, over the same period, is rebuilding research and marketing that had languished as Ford prepared for a sale.
"They really stopped investing in R&D. They didn't invest in product development. They didn't invest in marketing," Nicolosi said. "We had to start from scratch."
Volvo, which previously used Ford's finance arm, also didn't have an in-house finance company to provide loans and leases in the U.S. until Nicolosi established one late last year. Competitive leases, which form a large part of premium auto sales in the U.S., will play a big role in 2014, he said.
Finance Arm
Volvo's challenge this year was the elimination of some models, higher fleet sales in 2012 and an aging product line, Nicolosi said. The company will replace or revamp its entire model line in 2014 and 2015 to boost sales, he said.
The automaker will eventually phase out five- and six-cylinder engines in favor of four-cylinder models enhanced with turbo-charging for fuel-economy gains and lower carbon emissions, Jan-Erik Larsson, director of Volvo's "Drive-E" powertrain program, told reporters in Camarillo yesterday. Further fuel efficiency and performance gains will come from hybrid and plug-in hybrid options Volvo plans to offer, he said.
In China, Volvo has opened its first plant to build cars mainly for that market, and by next year the Asian nation should top the U.S. as the brand's biggest market, Nicolosi said.
Geely is "letting Volvo be Volvo. They're not trying to turn Volvo into Geely," he said. With its new engines and platforms for new models, "every decision Volvo makes is for its own future survival."
Before it's here, it's on the Bloomberg Terminal.
LEARN MORE