Uber's Workforce Is Built to Do More Than Chauffeur
by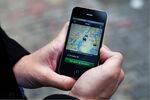 Uber, Silicon Valley's buzziest car service, is making it increasingly clear that its sights are set far beyond cabs. At LeWeb Conference in Paris, Chief Executive Travis Kalanick said it was almost time to move into Phase Two.
"We need to stamp out an urban logistics fabric in every city in the world, then it's figuring out other things we can do with that fabric," he said, according to CNET. "It's going to be interesting for us in 2014."
It's hard to overstate how excited the tech set is about Uber. Aside from providing a great way for affluent San Franciscans to get around town, the company is building the backbone for a distributed dispatch system where it controls a network of workers. Even if this was just used for taxis, it's really lucrative, and that part of the business is moving rapidly into new markets. Financial documents leaked to Valleywag suggest that the company brings in about $20.5 million each week. Assuming that held steady over an entire year, and Uber takes an average 20 percent commission, the company would be making about $210 million annually in revenue. (Make other assumptions to move the number up or down, if you wish.)
But Uber has already been playing at delivering services beyond car sharing, hinting at what its workforce can do aside from terrify and enrage the taxi industry. So far, these offerings have been primarily designed to gain attention. Last week, for instance, the company offered to deliver Christmas trees. It has dabbled with on-demand ice cream trucks and kittens. Presumably Uber will move into less gimmicky ventures next year.
This will be interesting, and not just from the consumers' perspective. Any significant expansion into other markets would mean an increasingly intricate coordination of a labor force that is not quite beholden to the company. This is a prototypical Silicon Valley model of getting things done. Other companies like Postmates or TaskRabbit are trying to set up labor pools for similar purposes; social media companies rely on a similar model for digital content.
Sitting at the center of a network like this is a great business. If drivers want work, they need a company like Uber, which in turn reaps enormous benefits while pushing much of the cost and risk outward. The rise of digital technology makes control over this kind of information increasingly valuable. Jaron Lanier gives the dystopian interpretation of this model in his book Who Owns the Future?
The perfect investment presides at an arm's length from real events in the world, so that it barely takes on liability. It ideally doesn't do or make anything. The plan is simply to channel the information of those who do act in the world. It is the actors who take risks, not the perfect investment.
You still have to get people to play along. Largely, Uber does this by offering an income stream. This was enough for John Hight, a software engineer living in the Bay Area, who decided to drive for the company as he works on a startup, even though he couldn't get straightforward answers about liability from either Uber or his insurer. "I know I'm taking a risk," he says.
The company is looking for new strategies as its hunger for labor increases. Last month it announced an agreement with car manufacturers and lenders to offer more favorable loan terms to people in several cities who want to buy cars to drive for the company. This should help both expand the labor pool and lock drivers into working for it.
But Uber can only exert so much control over its workforce if it doesn't want to actually employ them all, which would send its costs soaring. Ironically, the experts at this are the car service companies. Uber's lending program "seems like something between independent contractors and employees," says Marcia McCormick, co-director of the William C. Wefel Center for Employment Law. "Traditionally, taxi services have been like that."
There may already be trouble in paradise. Last week a judge said a class-action suit arguing that drivers should be classified as employees rather than independent contractors could go forward. The company has called the suit baseless, and declined to comment on last week's ruling.
Then again, any labor problems could be temporary. After all, Google Ventures recently bought into the company during a massive $258 million investment round in August. In the long run, Uber may have no need for drivers at all, because the cars that zip information workers between appointments and deliver festive shrubbery to homes will drive themselves.
Before it's here, it's on the Bloomberg Terminal.
LEARN MORE