pursuits
Three Restaurant Chains With Happy, Low-Paid Workers
By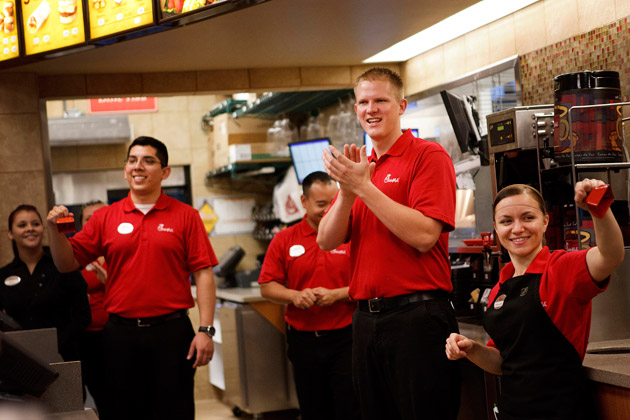 Low pay in the restaurant industry has spurred a series of one-day walkouts this year by fast-food employees demanding more, yet a trio of chains found their way onto a new list of the 50 best places to work. Starbucks (No. 39), Chick-fil-A (No. 43), and Texas Roadhouse (No. 47) made it onto the annual ranking by jobs website Glassdoor.com, derived from reviews submitted by U.S.-based employees.
Glassdoor's data show that while the average wage for many positions at Chick-Fil-A and Starbucks was less than $10 an hour (no pay information was available for Texas Roadhouse), reviews for the three companies focused on such advantages as a fun working environment, career opportunities, promoting from within, and open communication from management, according to Glassdoor spokesman Scott Dobroski. This is the third consecutive year Starbucks has made its way onto the list. Last year, In-N-Out Burger came in at No. 9.
Employees also gave a number of grocers high scores. Glassdoor's top 50 included Costco Wholesale (No. 16), H-E-B Grocery (No. 27), Publix Super Markets (No. 32), and Wegmans Food Markets (No. 40). Employees cited health-care and dental benefits for part-time workers, career opportunities, flexible schedules, and good pay by the food retailers.
A company must employ at least 1,000 people and have received more than 50 reviews during this period to be considered. Of hundreds of thousands of companies on the website, "several hundred" met the criteria this year. The reviews included much more than pay and benefits, asking how satisfied employees were with the company overall, how they feel about the leadership of the chief executive officer, the scope of career opportunities, and work-life balance. The results suggest that good companies can find a number of ways to make a happy workplace, although employees with cushier jobs tend rank higher on the list. Here's Glassdoor's tech-heavy list of top 10 places to work this year:
1. Bain & Company
2. Twitter
3. LinkedIn
4. Eastman Chemical
5. Facebook
6. Guidewire
7. Interactive Intelligence
8. Google
9. Orbitz Worldwide
10. Nestlé Purina PetCare
Before it's here, it's on the Bloomberg Terminal.
LEARN MORE