The Unstoppable Postal-Service Retreat Starts in Canada
By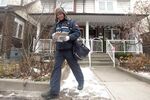 Anybody who doubts where the U.S. Postal Service is headed should look at what's happening north of the border. Canada Post announced (pdf) today that it plans to end home delivery in urban areas over the next five years, part of a plan to restore its financial health. In addition, the Canadian mail will increase stamp prices and cut as many 8,000 jobs.
Canada Post has seen a 24 percent decline in letter volume since 2008, according to the BBC, a figure that's unnervingly close to the drop in overall mail volume suffered by the USPS over the same period. Canada Post expects to lose nearly $1 billion by 2020 without sweeping changes—fiscal woes that actually sound minuscule compared with the $5 billion hemorrhaged by the USPS just last year.
Opponents of similar reforms in the U.S. blame the USPS's fiscal crisis on a congressional mandate to prepay $5 billion to cover future health-care benefits of retirees. But that's just a side issue. If people would stop communicating via e-mail, text message, and Twitter and go back to writing letters, Canada Post and its American counterpart would be fine. That's not likely to happen.
So how will Canadian city dwellers get their mail? They will have to go to "community post boxes" in their neighborhoods. But don't expect any riots, and not only because Canadians are usually considered more temperate than their neighbors to the south: "[T]wo-thirds of Canadians, mostly in newer suburban neighborhoods and rural areas, already receive their mail through this method," according to the BBC.
It makes you wonder: When will Americans sober up and make similar adjustments to the way mail is delivered in their country?
Before it's here, it's on the Bloomberg Terminal.
LEARN MORE