The Secret of Costco's Bad Quarter: Members Pay Even If They Don't Shop
by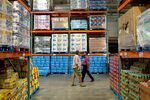 Popularity wasn't Costco's problem in the recent quarter, in which revenue from membership fees surged 7.4 percent from a year ago, but getting those people to spend remained a challenge, and the discounter missed Wall Street expectations for the second-consecutive quarter.
Trouble from lack of spending is a refrain heard from retailers time and again in recent months. Costco sales increased a disappointing 5.5 percent, to $25 billion, and the company's already thin margins were squeezed further as profit ticked up only 2.2 percent, to $425 million.
The numbers illustrate a bit of a strategy shift at Costco. The retail giant is lowering prices at its almost 650 warehouse stores in a bid to lock more shoppers into annual memberships. So it's playing the long game even more than it usually does.
Wall Street probably won't be happy with today's numbers, but the gambit makes some sense. If Costco had realized last year's higher profit margins in the recent quarter (assuming static sales), it would have pocketed an extra $7 million in income. But it managed to book an additional $38 million in membership fees, in part, by holding down its margins to make membership attractive. Costco doesn't really mind if people aren't buying two-pound tins of hot cocoa ($25.99), 10-pound sacks of peanut-butter dog treats ($36.99) or a 16-bottle wine refrigerator ($139.99)—just as long as they are buying annual membership cards ($55).
Before it's here, it's on the Bloomberg Terminal.
LEARN MORE