Redskins Shut Down Griffin, Will Start Cousins at Quarterback
Erik Matuszewski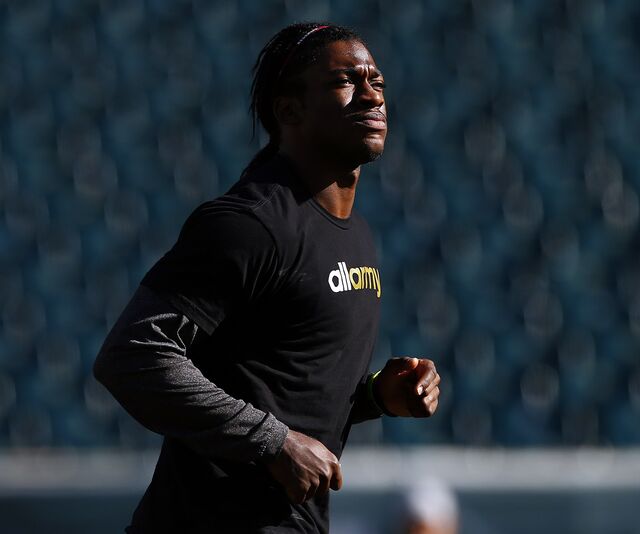 Robert Griffin III has been shut down by the Washington Redskins for the final three games of the National Football League season, with Kirk Cousins taking over as the starting quarterback.
Griffin, the second overall pick in the 2012 draft, said he was told by coach Mike Shanahan that the decision was to protect him from injury with the Redskins at 3-10 and out of playoff contention. Griffin, who returned this season after having surgery to repair a torn knee ligament in January, had been sacked 24 times in the Redskins' past five games.
"I expressed my desire to play," Griffin said yesterday at a news conference. "Of course I want to be out there and finish the season with my guys. He explained to me his reasoning. At the end of the day, coach's decision is what we go with. I have to do whatever I can to help Kirk and help this team win."
The Redskins visit the Atlanta Falcons this week with Rex Grossman as backup quarterback to Cousins, 25, who has appeared in five NFL games and passed for 573 yards with four touchdowns and five interceptions. In his lone start last year, Cousins completed 26 of 37 passes for 329 yards, two touchdowns and an interception.
Shanahan said he spoke with Redskins owner Dan Snyder last week about whether to shut Griffin down.
"The best thing to do for Robert was not play him, give Kirk the chance to play, so he has a chance to go into the offseason healthy," Shanahan told reporters yesterday. "The best thing to do is give him a chance to go into that third season injury free."
Exit Strategy?
The decision to bench Griffin may be an attempt by Shanahan to get Snyder to fire him, the Washington Post reported. Shanahan, who is owed more than $7 million under the five-year contract he signed in 2010, has had differences with Snyder over the owner's friendly relationship with Griffin, the paper said, citing unidentified people close to the situation.
"That's Dan's decision," Shanahan said on whether he returns as coach next season. "My job is to make the decisions that are in the best interests of the organization."
Griffin said he hasn't spoken with Snyder about being shut down for the final three games.
"I never talk to him about that kind of stuff," Griffin said. "It's Mike's decision. He's the coach."
The NFL's offensive rookie of the year in 2012, Griffin said he won't be bothered thinking about whether there are other motives for the benching.
"My teammates don't need me to think about it that way and bring that kind of environment to the locker room," said Griffin, who last season helped the Redskins go 10-6 and win their first division title since 1999.
Before it's here, it's on the Bloomberg Terminal.
LEARN MORE