Facebook's News Feed Suffers From the Banality of the Crowd
By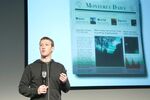 Active users of Facebook likely already suspect what has emerged as a topic of intense discussion in the technology blogosphere this week. News Feed, the social network's most popular product, is facing an identity crisis.
News Feed is the always-fluctuating compilation of status updates, news articles, videos, and advertisements that greet Facebook's 1.2 billion users when they log into the service. For the last seven years, it's been a reliable way to catch up on friends' lives. Now it's too often a window into the weird predilections of the Internet and its users.
The problem: So-called viral posts are flooding the service and blotting out more significant content. "What is Depression? Let this Animation with a Dog Shed Light On It" is the post that met me this morning on the top of my feed. The cartoon comes courtesy of Upworthy, a suddenly ubiquitous website for "things that matter." A little lower down on my feed, there's a link to a 2009 Gizmodo story about a 13-story building in Shanghai that collapsed during construction. That's fine, but I think I've seen that photograph about a dozen times on Facebook and never clicked once.
Facebook users are sharing this material and liking it, so it's flooding the service. Mark Zuckerberg and his colleagues have empowered users with tools to create the world's most populist newspaper. The result, as so many in the media might have cynically predicted, is a mishmash of humorous triviality, punctuated by the occasional serious news story and important update from a dear friend. As a result, Facebook is less useful to some of its users and giving added momentum to its rivals, such as Twitter and Snapchat.
In an illuminating post on AllThingsD yesterday, Mike Isaac wrote about the debate inside Facebook around this issue. In March, Zuckerberg announced with great fanfare a facelift for the News Feed that would attempt to make it a true personalized news source, emphasizing a diversity of high-quality content and relevant updates from family and friends. I wrote about the press conference here.
It turns out that the update has never been rolled out widely and might not be for a while. Early testing hasn't gone well. Users are more likely to click on viral posts from such sites as Upworthy and Buzzfeed, creating "a sort of tabloidized version of Facebook where 'junk food stories with LOLcat art' do insanely well and show up more often," according to a source quoted in Isaac's piece.
Before he can fix News Feed, Zuckerberg is going to have to resolve a contradiction in Facebook's model of sharing. The company has empowered its users and employed the wisdom of the crowd as a curator for a new kind of newspaper, but the masses have some pretty banal tastes. That building in Shanghai can fall down only so many times before the news starts to get old.