B-School Fundraising Scorecard: Who Gave the Most in 2013?
Francesca Di Meglio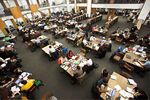 This has been a good year for B-school fundraising. New buildings will go up on campuses around the world. Scholarships and academic chairs have been established, classrooms will go digital, and a few more business schools will be named in honor of especially generous benefactors.
Seventeen schools received donations of $10 million or more, totaling nearly $700 million, while top institutions Columbia Business School and University of Michigan's Ross School of Business received gifts from alumni of $100 million each. Columbia had an especially good year, receiving two gifts totaling $40 million to help with the construction of a new campus (see table below).
While donations are still not as easy to come by as they were pre-recession, business schools are finding that as the economy recovers, so are their endowments and fundraising efforts. "Overall it is a better fundraising climate," Eddie Sartin, chief development officer at the Ross School, wrote in an e-mail. "We are in many more gift conversations now than we were one or two years ago."
We compiled a list of this year's donations of $10 million or more from several sources, including the Association to Advance Collegiate Schools of Business (AACSB), Chronicle of Philanthropy, and individual schools. Below is a roundup of the gifts and how the money will be used.
Before it's here, it's on the Bloomberg Terminal.
LEARN MORE