YouTube Falstaff Cooks up New Show at Garter Inn Gala
Manuela Hoelterhoff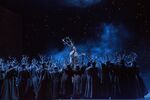 As the walls of the Garter Inn open up on a starry sky, we might as well be on stage with the fairies, wives, waiters, flunkies and a fatso named Falstaff.
What a perfect night.
The new production at the Metropolitan Opera of Verdi's last work is a delight from the first glimpse of Falstaff waking up after a drunken party to the final scene of the gallant knight standing atop a banquet table ready for another meal.
Directed by Robert Carsen, conducted by Met deity James Levine, "Falstaff" features Ambrogio Maestri, a very large baritone who also cooks off stage.
Hate opera? Watch him prepare rice with chicken livers and cognac on YouTube. He makes it for four and probably eats most of it. His wife looks rather small.
Fortunately, Maestri's voice is also unbelievably huge. He could bellow for a breakfast eclair from the Epicerie Boulud on Broadway without leaving his big bed on the stage of the Met.
When his two idiot sidekicks stagger into view from underneath the mattress, the fun starts.
Always an elegant director, Carsen brings an unexpected comic touch to the seductions, temper tantrums, thievery and masquerades at the Garter Inn.
No Tights
He's moved the show from Elizabethan times into the 1950s, dispensing with leafy forests, timbered charm and men in tights. Nothing is lost, thanks to the witty sets by Paul Steinberg and pitch-perfect costumes by Brigitte Reiffenstuel, with quite a few nice lighting touches by Peter Van Praet.
The ballet of rolling dining tables and pastry carts was a highlight, but Act II is the real triumph: a huge yellow kitchen where Falstaff hopes to seduce Alice Ford, but ends up helping to extract a turkey from the oven.
The chaos that ensues when Mr. Ford returns unexpectedly is wildly funny and perfectly choreographed, until Falstaff is stuffed into a laundry basket and dropped through a window into the Thames.
As he dries off in a stable, a horse continues the food motif by munching on a feedbag, oblivious to the aggrieved knight.
My belly kept me afloat, but I have also become fat, he sighs. Maestri brings both comedy and a strange majesty to the role. A part so easily played for laughs is given a deeper dimension.
The huge cast is filled with surprises: Who knew heavyweight soprano Angela Meade could be funny? Lisette Oropesa and tenor Paolo Fanale -- making a promising debut -- were perfect as Nanetta and Fenton, and Stephanie Blythe curtsied memorably as Dame Quickly.
Gala Dinner
Levine as usual was showered with applause when he swung around and waved from the motored conveyance he now needs to navigate. There have been fleeter presentations of Verdi's score, but it was good to see him back after such a long period of illness.
The evening raised $750,000 thanks to a gala dinner featuring roast chicken (not cooked by Signor Maestri).
"Falstaff" continues through Jan. 11 and is made possible by gifts from Betsy and Ed Cohen and Harry and Misook Doolittle.
Ethan Hawke
At the Vivian Beaumont next door to the Met, there's another memorable banquet, this one hosted by Lady Macbeth and ruined by her raving husband as he sees the ghost of the murdered Banquo. The fat knight and the power-hungry king-killer cheek by jowl made for a full weekend.
The new production by Jack O'Brien is spellbinding, filled with striking moments, yet surging always toward that exhilarating finale when the forces of Malcolm and Macduff rip Birnam's trees from the floor boards. The set by Scott Pask exudes terror; the costumes by Catherine Zuber imaginatively mix tailored black coats with armor.
Ethan Hawke is an intriguing Macbeth, perhaps a bit small for the role, but ultimately captivating with his sing-song, dreamy delivery. Anne-Marie Duff brings chilly beauty to the goal-oriented wife. Adding to the atmosphere is the powerful music by Mark Bennett that augments the weird and bloody landscape of Shakespeare's Scottish Play. I hope the Met's general manager, Peter Gelb, stops by with a commission.
''Macbeth'' continues through Jan. 12 at Lincoln Center's Vivian Beaumont Theater.
(Manuela Hoelterhoff is an executive editor at Bloomberg News. The opinions expressed are her own.)
Before it's here, it's on the Bloomberg Terminal.
LEARN MORE