When You Care Enough to Send a Rupert Murdoch Tweet
By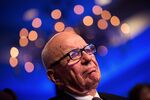 Since its inception, Rupert Murdoch's output on Twitter has been the gift that keeps on giving for media reporters. Now, just in time for the holiday season, the media mogul's Twitter musings have been converted into the perfect stocking stuffer for the journalist in your family. In short, they've been turned into a set of greeting cards.
The transformation of Murdoch's social media chatter from digital-only to a print edition comes courtesy of New York-based artist Michelle Vaughan, who has created a set of spare, elegant letterpress cards, each of which feature a Murdoch tweet.
This morning, I raced through the falling snow to Project No. 8, a boutique retail store just off the lobby of the Ace Hotel in Manhattan. There, amid a menagerie of precious curios—a doughnut map of New York, a jar of Brooklyn-sourced whiskey sour pickles, etc.—I found a stash of the inspirational Murdoch-inspired greeting cards. A pack of five (plus envelopes) set me back $39.20, including tax. Not bad at all, considering the fine craftsmanship of the work.
The rectangular cards, printed on rich paper stock the color of French vanilla ice cream, feel satisfyingly hefty in one's hand. The cards lend an additional sense of playful wonderment to Murdoch's prose, which Vaughan has captured for posterity in modestly scaled, Jolly Rancher-red letters with a serif typeface. Some metadata, including Murdoch's Twitter handle and the time stamp of the tweet, also appear on the cards.
In recent years, Murdoch has tweeted more than a thousand times. His oeuvre runs the gamut from the festive to the exalting and the appalling. Vaughan curates with a steady, confident hand. Throughout the collection, she stays away from Murdoch's more controversial utterances in favor of a selection that should appeal to both Murdoch novices ("To hell with politicians! When are we going to find some to tell the truth in any country? Don't hold your breath.") and Murdoch scholars ("Now they are complaining about R Brooks saving an old horse from the glue factory!").
Once you've spent some time with the product, it's difficult to return to Murdoch's work on Twitter without noticing the greeting-card sensibility that infuses much of his writing therein. As the man himself remarked recently:
Hallmark, you've been warned.
Before it's here, it's on the Bloomberg Terminal.
LEARN MORE