Washington's Public School Principals Go Back to School at Georgetown's McDonough
by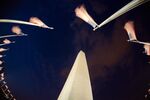 On Saturday, Georgetown's McDonough School of Business awarded executive master's in leadership to a new cohort of students: administrators from Washington's troubled public school system. Based on McDonough's existing EML degree curriculum, the program is intended to help principals and superintendents tackle complex problems in U.S. education. Paul Almeida, a senior associate dean at McDonough, talked with Bloomberg Businessweek  about what school leaders can learn from the business community and the future of the subsidized program.
What were the goals when you launched this program?
We want to help these educators think about leading a school system into the future. What models of leadership—and there are lots of them—make the most sense in the context of public schools? How do you create a common mindset and culture to help principals tackle problems together? How can we take what we know about executive leadership and use it to help principals manage complex environments better?
So how do you teach that?
We said, "let's not get into too much navel-gazing." We brought in cases and lectures from a wide range of industries. If you look at a maturing industry like the chemical industry, there you have to deal with stakeholders who expect that things will never change. If you look at dynamic industries like biotech, you can think about how to manage in a fast-changing environment. They both apply.
Will you be bringing the program back next year?
If all goes well, we'll continue this in D.C. for three more years. We're thinking about other school systems and how we can take what we know and use it elsewhere. When I asked the principals how it went, they were inspired. And tired. There was an attitude of, "we're not going to let all this work we did go to waste." I was struck by a feeling: Maybe we should only do this kind of program. Of course, you don't make any money that way. But it's good to see that we can make a positive difference to a community that needs it.
Before it's here, it's on the Bloomberg Terminal.
LEARN MORE