RedBox Learns That Egg Salad Kiosks Can't Replace DVD Rentals
By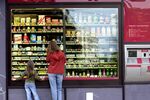 RedBox, the company that perfected the DVD kiosk, is still searching for a plan B. It has already cleared two big challenges in corporate survival strategy: realizing that it is slowly going extinct and resolving to disrupt itself. The third step of reinventing—or at least drastically revising— the company's business model is proving difficult.
Outerwall, Redbox's corporate parent, pulled the plug today on three young ventures intended to drive returns when DVDs have finally gone the way of VHS cartridges: Rubi (a gaggle of coffee-brewing kiosks), Crisp Market (vending machines stocked with "fresh" sandwiches and salads), and Star Studio (a line of high-tech photo booths that feature exotic backdrops and blowers for that windblown, hair-band look).
Kudos to Outerwall for sticking to what it knows—namely, big boxes of technology that provide goods and services—but it's not shocking that these fledgling ideas didn't work out. Decent coffee is fairly ubiquitous these days, and any city with enough people to support a vending machine full of sandwiches probably has some quality delis close by. Plus, who really wants to eat "Mom's egg salad" from a kiosk? Even the slickest photo booth pales in comparison to the rash of filters and editing apps on the average smartphone.
RedBox President Anne Saunders has left the business and the company is cutting 251 positions—almost 9 percent of its workforce—as the casting about for the next great kiosk business appears to be wearing on shareholders. Outerwall investors, by and large, bought a company that made a mint by beating Blockbuster; even now, that's where the lion's share of sales come from. But there's a difference between evolving a business model and becoming the equivalent of a publicly traded venture-capital firm by throwing money at promising ideas and hoping one of them takes off.
In the first nine months of this year, Outerwall's new ventures brought in $18.6 million in sales while burning through $27.1 million, including $6.1 million spent on research and development. Not surprisingly, shares surged almost 4 percent this morning on the company's decision to kill its startup ideas.
Still, the DVD-by-kiosk business appears to have more longevity than one might think. By keeping its prices far lower than on-demand video offerings, RedBox helped boost sales by 4.1 percent in the first nine months of this year, to $1.5 billion, and it booked 584 million movie rentals in that time for a 5.8 percent increase from a year ago.
Outerwall's Coinstar business, meanwhile, is an even more reliable little mint. Just by counting spare change the company drummed up $219.5 million in sales this year at a 21 percent operating margin. And the company is still working on ecoATM, a line of kiosks that buy used tablets and smartphones.

Before it's here, it's on the Bloomberg Terminal.
LEARN MORE