Keystone Foe Added to Obama Inner Circle With Podesta
Jim Snyder and Jim Efstathiou Jr.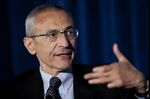 John Podesta, a vocal opponent of the Keystone XL pipeline, is returning to the White House to shore up U.S. President Barack Obama just as the administration weighs whether to approve the project.
The Democratic Party veteran, who previously served as President Bill Clinton's chief of staff, joins the administration as Obama's approval ratings have fallen to all-time lows after the fumbled rollout of the health care exchanges. White House spokesman Jay Carney said yesterday that Podesta, 64, will advise on a range of issues, "with a particular focus on issues of energy and climate change."
Podesta will recuse himself from working on Keystone given that the U.S. review of the project is far along and that his views on it are well known, according to a White House aide who asked not to be identified discussing personnel matters.
Environmental groups heralded Podesta's return to the White House, noting his commitment to addressing the risks of climate change. In 2003, Podesta established the Center for American Progress, whose advocacy arm last week co-sponsored a conference where Keystone opponents argued that it would violate a climate-change standard that Obama set in June.
"When it comes to Keystone, there's no question John is an opponent," Daniel J. Weiss, director of climate strategy at the Center for American Progress, which is aligned with the Democratic Party, said in an interview. "But he's going to be an honest broker."
Uncertain Role
Podesta is the second addition in a week to a West Wing trying to regroup from the Obamacare setbacks. Phil Schiliro, Obama's former congressional liaison and a onetime Democratic aide in the U.S. House, is returning to oversee implementation of the health-care law.
Podesta, who led Obama's transition team in 2008, will also counsel the president on White House organization and how to get legislation passed.
New to Obama's White House, Podesta has been an outside adviser since before the president took office. He led Obama's transition team after the 2008 election and as chairman of the Center for American Progress had close ties to the White House.
"John Podesta is a very astute political strategist and lobbyist and he's also on record opposing the Keystone XL pipeline," Don Canton, a spokesman for Senator John Hoeven, a North Dakota Republican who supports Keystone, said in an interview. "That of course raises red flags that the Keystone decision will be made on political grounds rather than on its merits."
Quicker Transition
In a June 2010, speech, Podesta called the extraction of the Canadian oil sands "polluting, destructive, expensive, and energy intensive."
"We need to reduce fossil-fuel use and accelerate the transition to cleaner technologies, in the transportation sector and elsewhere," Podesta said, according to a text of the speech on the Center for American Progress website.
Podesta "knows the danger of our reliance on dirty fuels like tar sands and recognizes climate disruption as one of the most pressing challenges of our time," Michael Brune, executive director of the Sierra Club, a San Francisco-based environmental group, said in a statement in response to Podesta's return to the White House.
A spokesman for TransCanada Corp., the Calgary-based company that is proposing to build the $5.4 billion link between Alberta's oil sands and refineries on the U.S. Gulf of Mexico, declined to say what Podesta's new post might mean for Keystone.
Regulatory Focus
"It's not our place to comment on potential staff changes at the White House, but as a company, we remain focused on the regulatory process that the U.S. Department of State has been overseeing for more than five years," Shawn Howard, the spokesman, said in an e-mailed statement.
Podesta co-wrote a January 2012 guest editorial critical of Keystone in the Wall Street Journal with Tom Steyer, a billionaire who has bankrolled opposition to Keystone.
In the piece, the two criticized conservatives for pushing the pipeline to "import more foreign oil and deepen U.S. dependence," when the nation's own energy resources, including natural gas production and renewables like wind and solar power, were on the rise.
In an e-mail yesterday, Steyer called Podesta "an outstanding advocate for our environment, as well as one of the smartest and most dedicated people I have had the pleasure of working with." The statement didn't specifically mention Keystone.
Draft Report
The U.S. State Department is overseeing an environmental analysis of the 870-mile (1,400-kilometer) Keystone XL project.
A draft report released in March said that Keystone wouldn't significantly raise the risks of global warming because the oil sands would be developed even if it were rejected, delivered to market by other pipelines and by rail. Environmental groups have criticized that finding, calling Keystone a "linchpin" to development of oil sands.
Obama said in a June speech on climate change at Georgetown University that he wouldn't approve Keystone if it was found to significantly worsen carbon pollution.
"The net effects of the pipeline's impact on our climate will be absolutely critical to determining whether this project is allowed to go forward," Obama said.
Extraction and refining of oil sands releases more carbon dioxide emissions than other forms of crude oil. Supporters say Keystone will create jobs and improve U.S. energy security. Backers also argue that Keystone won't increase climate risks because it will replace heavy crude oil from Mexico and Venezuela that has a similar carbon footprint.
Late Arrival
"While various advisers and decision makers have changed over the past five years, that shouldn't change the fact that ultimate approval of the Keystone XL pipeline is in our best interests," Senator Heidi Heitkamp, a Democrat from North Dakota, said in an e-mail.
"It is very late in the administration to get a guy like Podesta to come in the door," Michael McKenna, a Republican strategist and president of MWR Strategies Inc., a Midlothian, Virginia-based lobbying firm, said in an interview. "Now's the point in the festivities when guys like him are leaving. Of the available Democrats out there he's probably the most skilled operative."
Both Podesta's and Schiliro's positions are temporary and don't require Senate confirmation. Podesta, who starts in early January, has agreed to serve for a year. Schiliro, who's returning to the White House for a few months, was Obama's chief envoy to Capitol Hill when the health-care law was passed in 2010.
Before it's here, it's on the Bloomberg Terminal.
LEARN MORE