Is Wall Street Now Too Big to Care?
by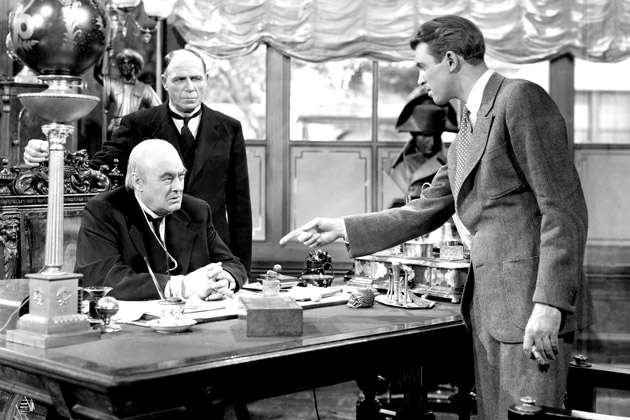 When exactly did America collectively repress all memory of the 1980s savings and loan crisis, then the biggest banking calamity since the Great Depression?
Before subprime, "S&L" was the mother of all too-big-to-fail meltdowns: More than 1,000 banks with total assets of over $500 billion fell, costing the taxpayer upwards of $150 billion. The ordeal exacerbated an already-bad recession (PDF).
Not something a nation forgets about overnight. But we nevertheless did forget some time, I figure, between Ace of Base and Netscape. And so Wall Street was allowed to risk its way into 2008's mega-taxpayer-backed disaster, via Bear Stearns, Lehman Brothers, AIG, et al. Never again after that, though, right?
Don't be so sure. Five years after the system was held at gunpoint by a massively interconnected and over-risked Wall Street, the country's six biggest banks—JPMorgan Chase, Bank of America, Citigroup, Wells Fargo, Goldman Sachs, and Morgan Stanley—are now 37 percent larger than they were in the depths of the financial crisis. These institutions make more than four out of every 10 loans and tote two-thirds of the banking system's $14.4 trillion in assets, according to WkndNotes, a private newsletter e-mailed to traders and brokers by investor Eric Peters.
"We saw how poorly the system was designed to let massive institutions fail without taking down the whole banking sector and economy," says Edward Harrison, a banking and finance specialist at the economic consultancy Global Macro Advisors. "Now the banks are even bigger. Do we really believe this can't happen again?"
 
The total roster of U.S. banks is at all-time record low. In 1985, there were more than 18,000, compared with 6,891 now: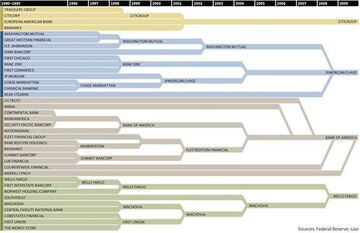 "Incredibly," writes economics author and blogger Michael Snyder, "there were actually more banks in existence back during the days of the Great Depression than there is today. The federal government has been keeping track of the number of banks since 1934 and this year is the very first time that the number has fallen below 7,000."
JPMorgan Chase is about the size of the entire British economy and holds 12 percent of all cash in the U.S. Unpack its corporate letterhead and you will find old Fortune 500 stalwarts like Washington Mutual, Providian, Chemical Bank, Banc One, Bear Stearns, and Great Western, among many other absorbed institutions. Bank of America, which snapped up Countrywide and Merrill Lynch (and pretty much all Merrill Lynch has snapped up) accounts for about a third of all U.S. business loans, while Wells Fargo (think Wachovia-First Union-CoreStates and the Money Store) makes a quarter of all mortgage loans.
"It is kind of like a patient that has such an advanced case of cancer that if you try to kill the cancer you will inevitably also kill the patient," Snyder says. "That is essentially what our relationship with these big banks is like at this point." Four U.S. banks now lug total derivatives exposure well north of $40 trillion, or more than the combined value of U.S. gross domestic product and the national debt.
There's been plenty of hand-wringing about the new and improved too big to fail from regulators and pols. Richmond Federal Reserve President Jeff Lacker, perhaps the central bank's most iconoclastic voice, told a House panel in testimony this month that he supports a "living will" process of sorts for systemically important banks, making it possible for them to be seized and broken up in real time without taking down the rest of Wall Street. Lacker said that such a plan aspires to make the bankruptcy of a bank "as much a nonevent in finance as it is in the airline industry."
In a speech Thursday, Treasury Secretary Jack Lew asserted that the Dodd-Frank Act has made it unlikely that a bank could collapse in a way that invites a government bailout and/or broader economic collapse. "Put simply," he said, "the reforms we are putting in place raise the cost for a bank to be large, requiring firms to internalize their risks, and together, with resolution authority and living wills, make clear that shareholders, creditors, and executives—not taxpayers—will be responsible if a large financial institution fails."
"If Lew thinks he can claim victory over 'too big to fail' today, I'd tell him he's living on another planet," Senator David Vitter, a Republican from Louisiana, responded in a statement. "It is premature for anyone to take a victory lap when 'too-big-to-fail' policies are still alive and well," agreed Senator Sherrod Brown, an Ohio Democrat. Legislation put forward by the senators, the Terminating Bailouts for Taxpayer Fairness Act (TBTF Act), has stagnated on Capitol Hill.
Lew, for his part, made sure to leave the Obama administration a generous amount of wiggle room in his speech to the Pew Charitable Trusts: "Earlier this year, I said if we could not with a straight face say we ended 'too big to fail,' we would have to look at other options. Based on the totality of reforms we are putting in place, I believe we will meet that test. But, to be clear, there is no precise point at which you can prove with certainty that we have done enough. If, in the future, we need to take further action, we will not hesitate."
In other words, come to think of it, I cannot categorically rule out another too-big-to-fail disaster. So remember to ask the guy who has my job when this all goes down.
Before it's here, it's on the Bloomberg Terminal.
LEARN MORE