American Airlines' Departing CEO Gets a $17 Million Bon Voyage
by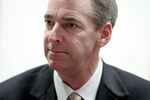 For much of this year, the old American Airlines battled in bankruptcy court to award its departing chief executive a $20 million severance award, drawing protests from company employees and a federal agency. But fear not for Chairman Tom Horton's financial future—on Monday the board of the new American Airlines gave him nearly $17 million in cash and stock.
Horton—who served as American's president and CEO before its merger with US Airways was finally consummated on Dec. 9—will receive about $12.72 million in cash, including a bonus that could exceed $1 million. He also received 170,722 shares of American Airlines Group stock, worth about $4.27 million based on today's $25 share price.
The board said in a regulatory filing Monday that the $16.9 million severance is for "Mr. Horton's role in the financial performance of the Company during 2013, the success and completion of AMR Corporation's financial restructuring and emergence from bankruptcy, and the completion of the Merger." He and his wife will also receive free lifetime travel on American, and Horton will have an office and staff support through 2016. "The elements of the award are consistent with what the other departing executives received," American spokesman Michael Trevino says.
As part of its Chapter 11 restructuring, AMR Corp. had sought to award Horton $19.9 million in cash and stock last spring. That effort drew an objection from the U.S. Trustee, which oversees bankruptcy cases for the federal government, as overly generous given the relative size of payments granted to other departing AMR employees. The sizable payment didn't sit too well with the airline's employees, either.
In April, U.S. Bankruptcy Judge Sean Lane tossed the $20 million severance award and noted "little reason for the Court to be involved at all" considering that the new airline could give Horton whatever it chose once it left court oversight. On Monday, it did—and Horton saw a $3 million cut.
Before it's here, it's on the Bloomberg Terminal.
LEARN MORE