With a Crucial Test Looming for Abenomics, Japan's Economy Falls Short
By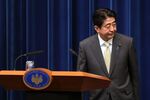 Japan is about to enter a crucial test for Abenomics. Shinzo Abe later this month will celebrate the anniversary of the landslide victory that sent him to the Japanese prime minister's office on a promise to revive the economy by weakening the yen, increasing spending, ending deflation, and promoting reforms.
By some measures, he's succeeded: The yen is much weaker, corporate profits are rising, and inflation is reviving.
Still, the news today was a grim reminder that on the first anniversary of Abenomics, it's too early for Japanese to be celebrating. The Finance Ministry announced on Monday that Japanese GDP grew at an annualized rate of just 1.1 percent in the third quarter of 2013. That's a downward revision from the earlier 1.9 percent. At the same time, the government revealed Japan surprisingly had a current account deficit of ¥128 billion ($1.2 billion) for the quarter.
Economists still expect growth to rebound this quarter. Headlines like today's, however, are dangerous for Abe, who doesn't want Japanese employers to have doubts about his economic program in the coming weeks. Early in 2014, representatives of labor and management will sit down to negotiate pay packages for the year, and Abe says they should agree to give Japanese workers a raise.
"For us to escape deflation, it is extremely important that wages rise," after they slumped more than prices declined in the past 15 years, Abe said in an interview with Bloomberg News published today. "Some companies are already responding. For example, executives at Toyota and Hitachi have promised a raise."
Abe needs other companies to follow their lead. The limited success to date of Abenomics is largely the result of a big increase in spending by the government, not by consumers, says Tom Orlik, a Bloomberg economist based in Beijing. For the recovery to have legs next year, when the government will be increasing taxes to address the huge budget deficit, Japanese businesses and consumers need to spend more too. One promising sign: Japanese companies are investing, with new machinery orders on the rise again.
More take-home pay would help Japanese consumers do their part, but with wages falling, people aren't confident enough to spend. "Japan's growth really outperformed in 2013, but a large part of that was the government spending more money," Orlik says. "For Abenomics to work, you need much higher spending by households and [business]. With the fiscal contraction coming, that has to start happening now."
Before it's here, it's on the Bloomberg Terminal.
LEARN MORE