A New American Airlines Hits the Market. Will Pilots Keep Their Shares?
by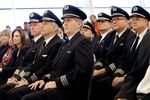 Shares of the new American Airlines Group begin trading today as US Airways and AMR Corp. formally close their merger and create the world's largest airline. As part of that deal, labor groups from the old American will receive a 13.5 percent equity stake, valued at $1.04 billion, in the new airline.
To the pilots, the stock payout, which they receive in several distributions through April, is a partial financial recovery for their retirement savings "after nothing but pay cuts for the last 12 years," says Tom Hoban, a spokesman for the Allied Pilots Association, which represents American's pilots. "The equity stake represents reimbursement on the damages to the contract, which were massive."
It's unclear whether the pilots will look to cash in immediately or hold the shares and realize potential gains, Hoban says. Many pilots may seek to pay down debt and use the funds for other personal needs. If they sell in bulk, of course, that could depress the new airline's share price, which American estimated last week will trade at about $23, based on the 20-day average of US Airways' stock price. Shares of US Airways closed at $22.55 Friday, its final trading day, up 67 percent for 2013. AMR shares, which were traded over the counter, have gained nearly 1,900 percent in the past year.
Another wrinkle in that decision is whether pilots will be able to secure legislative approval to roll the stock into retirement accounts and avoid a tax hit on the equity. The average pretax distribution is about $120,000 per employee, but varies based on a plethora of metrics such as seniority, time until mandatory retirement, and equipment flown. "Certainly we'd expect some selling to take place, but I believe quite a few pilots will hold onto their stock–particularly considering they're getting raises and back pay," Wolfe Research analyst Hunter Keay wrote Friday in an e-mail.
Keay thinks the new airline's shares are worth $39 each, the highest target among Wall Street analysts, according to Bloomberg data. Most others have been far more conservative in their initial financial forecasts for the combined carrier, based on past rocky airline mergers, especially the combination of United and Continental. In general, the new airline is expected to have a market capitalization between $17 billion and $22 billion, below Delta ($24 billion) and well above United ($13 billion).
Before it's here, it's on the Bloomberg Terminal.
LEARN MORE