Sysco Bulks Up in the Restaurant Industry. Will Customers Revolt?
By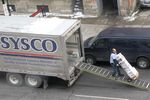 Bigger may be better for the food-service industry. It's less clear how restaurant and hospital cafeteria customers may respond to a new behemoth supplier as Sysco acquires US Foods, putting it in position to command more than 25 percent of the market.
A larger Sysco—already the largest player in the business of supplying food, napkins, forks, and condiments to eateries from McDonald's to college cafeterias—would, in theory, be able to boost prices after it integrates a large competitor. About 61 percent of Sysco's business is from restaurants, which typically prefer to have more than one supplier to help them manage their costs and product selection. (After all, sometimes the kind of mustard packets matter at a college cafeteria.) The company also has accounts with other places that serve food, such as hotel chains and nursing homes.
Under the terms of the deal announced today, Sysco would pay $3.5 billion for US Foods, bringing annual sales to $65 billion. The sale is subject to review by antitrust authorities, which might require Sysco to divest certain assets, company officials conceded. "Even with some divestitures, we still see this as a very attractive deal," Sysco Chief Executive Officer Bill DeLaney said on a conference call with analysts, repeatedly emphasizing the more than 15,000 smaller players in the food-service industry. (Read: There's still plenty of competition. Don't worry about it.)
Sysco and US Foods may well confront a tough regulatory review, given that both companies operate "in virtually every U.S. market with duplicate distribution centers and sales forces," says Cantor Fitzgerald analyst Ajay Jain. He says the combined company would have a market share of 30 percent overall. In the high-margin business they do with independent eateries, the share is higher.
Smaller rivals may benefit, somewhat, once the Sysco deal is consummated, if customers look to find other suppliers, hoping to contain costs and choice. "Our goal is not to lose a single customer," says Robert Kreidler, Sysco's chief financial officer. "Whether we can achieve that or not is another story."
Before it's here, it's on the Bloomberg Terminal.
LEARN MORE