pursuits
Seeds of Discontent: Mulling Team U.S.A.'s World Cup Draw
By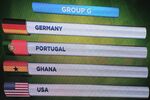 The mortified reaction to Team U.S.A.'s World Cup draw on Dec. 6 might create the false impression that Americans have high hopes for men's soccer. They don't. What irks Americans is the idea of being set up to fail. The U.S. team, ranked No. 14, will face off against Germany, Portugal, and Ghana at next summer's tournament in Brazil. That puts the Americans in what the soccer world calls a "Group of Death," or tournament so competitive it's practically guaranteed to fail. Germany and Portugal are among the best in the world. Even lower-ranked Ghana knocked the Americans out in the previous two World Cups.
Then again, what makes Germany and Portugal so hot? Fédération Internationale de Football Association determines the global rankings (long co-branded with Coca-Cola); Germany and Portugal are both among the best. The top eight teams are seeded, which means they won't have to face each other until later in the tournament. Putting everyone in a random draw runs the risk that the best teams might eliminate each other, thus depriving sponsors, viewers, and the betting public of a dramatic high-stakes final. Seeding is one way to avoid that, and give probable winners some easy bait to warm up.
Ranking national teams can be a complicated and emotional endeavor. Along with host nation Brazil, FIFA seeded Spain, Germany, Argentina, Colombia, Belgium, Uruguay and Switzerland. All are from Europe or Latin America, two continents that get extra credit under FIFA's system because of the "strength of confederation." They have more teams, more money, and more fans, all of which presumably leads to better players and a higher caliber of play. Teams also get ranked by the quality of teams they've played against and the importance of each match. Losing by one goal or 10 is irrelevant in this formula, which FIFA calculated from each team's standing in October.
If you ask Cesare Prandelli, who coaches Italy's team, this year's seeding was "ridiculous." After all, Italy is currently ranked ahead of Switzerland. Tinker with the metrics, and some say the Netherlands has a better team. Portugal, England, and France are daunting contenders, too.
When playing what the rest of the world calls football, Americans are simply the mediocre guys with the big name. That's still true, though the U.S. team has made real gains since it squeaked into the 1990 World Cup, after a four-decade absence, when Mexico was disqualified. (More than a few Italians rejoiced when Sophia Loren drew the ball marked USA for who would play the host country that year; that year the U.S. team, after being trounced 5 to 1 by Czechoslovakia, proved to be remarkably competitive in its loss to Italy.)
Even before the latest World Cup draw, nobody bragged that America was No. 1. And if there's one thing U.S. teams like just as much as being dubbed the consensus colossus, it's coming in as the underdog. Faced with a Group of Death, the instinct is now pure Disney. (Think Kurt Russell in Miracle.) Americans love to suit up for epic quadrennial gatherings like the Olympics and World Cup. Pitting Team U.S.A. against a top-seeded tiger such as Germany could lead to carnage, but it sounds like a battle made for TV.
Before it's here, it's on the Bloomberg Terminal.
LEARN MORE