New York May Get 3 Inches of Snow as Dallas Starts Thaw
Brian K. Sullivan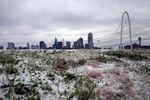 New York City may get 3 inches of snow tomorrow after getting rain today from a storm that dropped 8 inches of snow on Philadelphia and left thousands without power in Virginia.
The next round of bad weather arrives in New York early tomorrow, according to Tom Kines, a meteorologist with AccuWeather Inc. in State College, Pennsylvania. The first is expected to move northeast to Canada by then, according to the National Weather Service. In Texas, repair crews worked to restore power after an ice storm. More than 1,000 U.S. flights were canceled, mostly to or from Dallas.
"In general, the major cities are fine today," Kines said in a telephone interview. "There is precipitation this morning and it will move out this afternoon. This second system will probably bring some snow to the major cities tomorrow."
Around the U.S. 1,315 flights were canceled, including 719 at Dallas/Fort Worth International Airport, the largest hub for American Airlines Inc., as of 9:45 a.m. New York time, according to FlightAware, a Houston-based airline tracking services.
The weekend storm that hit the East left 84,000 Virginia homes and businesses blacked out as of 10 a.m. today, utility owners Dominion Resources Inc. and American Electric Power Co. reported on their websites. Customers in Washington, D.C., and Maryland also lost power. Philadelphia got 8.6 inches (22 centimeters) of snow, the most among East Coast cities, Kines said.
Cold, Dry
Tomorrow's storm in the eastern U.S. may mark an end of the rain and snow for a few days, said Rob Carolan, owner of Hometown Forecast Services Inc. in Nashua, New Hampshire. Arctic air will move into the region later this week.
"That will shut the precipitation off at least for the eastern U.S.," Carolan said by telephone. "They go into cold, dry weather."
The Dallas-Fort Worth area is recovering from last week's ice storm, which scrubbed thousands of flights, left more than 270,000 customers without power at its peak and forced the cancellation of the MetroPCS Dallas Marathon. About 650 people slept in the airport overnight, according to a statement released by Atif Elkadi, an airport spokesman.
Dallas power distributor Oncor Electric Delivery Co. reported about 9,300 homes and businesses without power as of 7:11 a.m. local time, according to its website. Today's high temperature in Dallas is forecast to be 37 degrees Fahrenheit (3 Celsius), according to the weather service.
Energy Demand
The cold weather across most of the U.S. will probably boost energy demand, said Matt Rogers, president of the Commodity Weather Group in Bethesda, Maryland.
Temperatures across a large part of the U.S., including Texas, the Great Lakes and the Northeast, will be at least 8 degrees below normal from today until Dec. 13, Rogers wrote in his forecast.
The heating-degree days value for the coming week is expected to be 204, 26 above normal and 56 higher than last year, according to the U.S. Climate Prediction Center in College Park, Maryland.
The values are calculated by subtracting the daily average temperature from a base of 65 degrees. Higher readings mean temperatures are falling and more energy is being used to heat homes and businesses.
Low readings will linger in the Northeast and southern Canada from Dec. 14 to Dec. 18, while much of the U.S. returns to more seasonal readings, Rogers said.
By the weekend, there is a chance for another system to sweep up the East Coast, Carolan said. Computer models aren't giving a clear picture on how this may develop.
Before it's here, it's on the Bloomberg Terminal.
LEARN MORE