How to Prove to Your Kids That Santa Is Real
by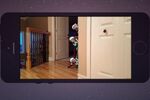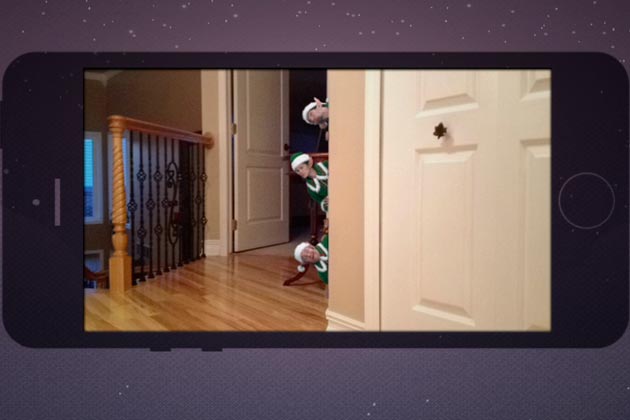 Adam Wilson's children know Santa and his elves are real. Sure, the candy canes and notes that the elves leave around their house at this time of year could have been planted by sneaky parents. But Wilson has more convincing evidence on his iPhone: footage of elves in the Wilson's house.
"For eons, kids have always wanted proof that there's Santa and there's elves," says Wilson, a 40-year-old digital creative director at ad agency Mcgarrybowen in Chicago. To satisfy them, Wilson developed an app that lets parents combine videos of elves, Santa, and even a sleigh tugged by reindeer with images of their homes. (Spoiler alert: the elves and Santa are played by actors, but the reindeer are real.)
The app is called Santa Spy Cam, and it's been downloaded 170,000 times since it made its debut in the iTunes store on Nov. 18. (Elves are still working on an Android version.) The idea took shape last year, when Wilson's four kids became obsessed with the Elf on the Shelf. For the uninitiated, that's a popular storybook that comes with a toy elf doll that, parents say, monitors whether children behave well enough to deserve gifts on Christmas morning. "He watches over you and flies back to the North Pole every night to report to Santa," says Wilson. "It's kind of a behavior modification tool for the kids."
Son Evan, who was 7 at the time, suggested leaving a camera out to capture elf activity. Wilson's father, Jim, in Detroit, embraced the idea. Together, they raised a small amount of seed money and organized video shoots, recruited Detroit-area actors, and built props, including a sleigh. They brought in two reindeer from Rooftop Landing Reindeer, a Michigan farm that provides the animals for holiday promotions. The pair was digitally cloned to create an entire pack pulling Santa's sleigh.
Wilson drew on his career in digital marketing to recruit friends to build the software, which lets users shrink the video overlay to make the elves fit neatly over still photos from their homes—perhaps on a mantle or a kitchen counter. All together, Santa Spy Cam offers 32 scenes. Three come free, and parents can purchase the rest at 99¢ for each elf appearance and $1.99 per Santa visit.
Wilson and his father have founded a company called Believe In to develop more apps, with the tooth fairy and Easter bunny on their list. Ever marketing, he also envisions deals in which the superimposed characters tout toys that parents can purchase through the app.
In the Wilson house, the video elves have joined an elaborate narrative with their Elf on the Shelf, which will culminate in Christmas eve surveillance. "We're going to set this camera out and capture Santa in the house," Wilson says, noting his kids' growing excitement. "That's the Super Bowl for them."
So far his kids, who range in age from 2 to 10, have been persuaded by the videos—or at least they've humored their dad. "The 10-year-old, I think, is getting a little wise to all of this," Wilson says, but "he's being really good about playing along." And if iPhone videos of elves prancing around the house aren't enough to convince children of Santa's magic, there's always NORAD.
Before it's here, it's on the Bloomberg Terminal.
LEARN MORE