Hollande's 'Sick Man' France Keeps Bond Market Love: Euro Credit
Anchalee Worrachate and Mark Deen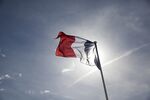 French President Francois Hollande is contending with a multitude of tax revolts, record-low popularity, an anemic economic recovery and a 16-year-high unemployment rate. You wouldn't know it from the bond market.
For all the recent turmoil, investors are demanding an extra yield of only 59 basis points for holding 10-year French debt rather than comparable German securities -- a far cry from the euro-era record of 204 basis points in November 2011. The French benchmark 10-year yield is at 2.42 percent as of 11:00 a.m. London time, not far from the average of 2.31 percent in the past six months.
"While some of France's policies may be arguably not viable in the long term, we don't see signs among our investors that they are increasingly worried about that country," Kommer van Trigt, head of fixed income in Rotterdam for Robeco Groep NV, which has 189 billion euros ($258 billion) in assets, said in an interview. "France has a deep, liquid bond market and its bonds are in demand among Asian investors."
Although two economists at Berenberg bank in London called France "the real sick man of Europe," in a report last week for the Brussels-based Lisbon Council, yield-hungry investors remain undeterred. The French 10-year yield, close to its record low, still offers premiums over its German or Finnish counterparts, luring investors chasing relatively safe bets.
BlackRock Support
French bonds delivered zero returns this year, according to Bloomberg World Bond Indexes. They still outperformed some semi-core peers like Austria and the Netherlands and beat benchmark German bunds, which handed investors a 1.8 percent loss.
BlackRock Inc., the world's biggest money manager, said last week that it currently holds fewer German bunds compared with the benchmark it uses to measure performance against so-called semi-core bonds. The New York-based fund is the second-biggest holder of French bonds among companies that make regulatory filings, according to data compiled by Bloomberg.
Investors like BlackRock are giving Hollande bragging rights for low government borrowing costs even as he counters mounting anger from the French over his policies.
Hollande's efforts to raise taxes, already among the world's highest, to address pressure from the European Union to cut the budget deficit, are sparking revolts across the country
'Bonnets Rouges'
Everyone from farmers and truckers to equestrians and soccer clubs have protested the higher levies. Farmers and truckers in Brittany took to the streets against an environmental tax, wearing red bonnets in a nod to the 1675 "Revolt of the Bonnets Rouges" in France's northwestern region against Louis XIV's taxes. The Hollande government backed down and suspended the levy.
Taxes in France have increased by a total of 70 billion euros over three years, including under Hollande's predecessor Nicolas Sarkozy.
The violent protests in Brittany at the end of October followed a decision by soccer clubs to refuse to play a round of league matches to oppose a 75 percent tax on salaries of more than 1 million euros. With Hollande refusing to budge on that tax, the clubs have postponed their planned action.
The taxes, together with joblessness -- which at 3.3 million people is at close to a record high -- and an economy that has barely grown in the past two years have rendered Hollande the most unpopular French leader since at least 1958.
Most Unpopular
With an approval rating of 20 percent, according to an Ifop survey Nov. 15-16, he has less support than any of his Fifth Republic predecessors.
The Hollande government's pledge to add no new taxes in 2014 has done little to placate the French.
France collects 46 percent of gross domestic product in taxes. Standard & Poor's estimates that government revenue amounts to 53 percent of GDP, once fines, dividends and other income are included -- more than any country outside Scandinavia. French state spending totals more than 56 percent of GDP, the highest in the euro area, it says.
France has the "most bloated" share of government spending in GDP in the euro area, Berenberg economists Holder Schmeiding and Christian Schulz, said in their report for the Lisbon Council.
"One major reason why France now sticks out as the real problem of Europe is that most of the usual euro crisis countries have improved so much," they said, citing efforts made by Ireland and Spain.
Investors Unfazed
The report notes that Hollande "currently seems unwilling to deliver more than a series of modest changes."
For all the criticism of the Hollande government's policies, bond investors remain unperturbed.
'I think that the gnashing of teeth over France is overdone,'' said Luca Jellinek, head of European interest-rate strategy at Credit Agricole Corporate & Investment Bank in London. "Yes, there is some stasis there but not nearly as awful as it's often made out to be."
The structural economic differences between Germany and France are largely ones of degree, he said.
"Their domestic investor base remains very solid and I see little reason for France to cease to dominate the investor habitat for low- to mid-risk sovereign paper," Jellinek said.
Before it's here, it's on the Bloomberg Terminal.
LEARN MORE