When Apple and Samsung Fight, the Lawyers Win
By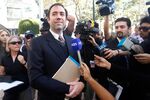 Pity the lawyers—except for those who practice intellectual property law. In IP, these are boom times. Fights between major players such as Apple and Samsung Electronics drag on for years, get stuck on complex technical details, and can dwell on the patents in products no longer on the market, with legal fees mounting all the way.
Consider the legal fees commanded in Apple and Samsung's latest dispute. A 2012 case between the two tech giants was decided in Apple's favor, as was a portion of that case that was recently retried to determine the damages Samsung must pay Apple for infringing several iPhone and iPad patents. The total now owed to the Cupertino (Calif.) computer and tech giant stands at $929 million, not including legal fees.
Throw in the legal fees, and the number could jump another $15.7 million. On Thursday, Apple filed a motion seeking that amount in attorneys' fees from Samsung, according to the Wall Street Journal. Apple shared some other interesting details along with the fee request.
Apple will pay about $60 million in legal fees for work done on the dispute between August 2011 and August 2013. Most of that goes to the lead firm handling the case, Morrison & Foerster, with roughly $2 million in fees paid to Wilmer Cutler Pickering Hale & Dorr, which has defended Apple against Samsung's counterclaims. The filing notes that the fees are "reasonable" and that efforts were taken, when possible, to reduce fees and apply discounts.
These are big numbers, representing fees for just a portion of the work on only one lawsuit (Apple also has filed suits against HTC and Motorola Mobility). What they also represent are the partners, counsel, associates, and contract lawyers who put in many hours on the cases, largely in the extensive discovery engaged in by both sides—Samsung served 583 requests for production, 89 interrogatories, and 2,518 requests for admission; Apple served 694 requests for production, 86 interrogatories, and 1,529 requests for admission.
There were lots of depositions, too, more than 200 on both sides, resulting, the court filing says, in more than 2,500 deposition exhibits (more documents). And there were many, many motions. The partners, current and former, working the case for Morrison & Foerster numbered more than 20. On discovery alone, the firm engaged about 30 contract attorneys, working alongside roughly 25 associates, according to the court filings.
Stanford University IP law professor Mark Lemley estimates that more than $1 billion has been spent in recent years on all the smartphone patent litigation. "While smartphone companies can certainly afford even a billion-dollar legal bill, it's not clear what good it does society to have them spend a billion dollars suing each other," he says. ($1 billion is roughly equivalent to two weeks' worth of iPhone sales, according to Bloomberg data.)
The lawsuits do help the lawyers, though, especially the big law firms that have acquired or expanded their IP practices in recent years based on the promise of patent litigation. There's no sluggish demand there. As the number of patent lawsuits continues to rise—twice as many were filed this year as there were three years ago, according to data from LexMachina—no doubt this practice will continue to flourish as other practice areas take a hit.
Before it's here, it's on the Bloomberg Terminal.
LEARN MORE