Euro Has Longest Rally Since June as ECB Refrains From Stimulus
John Detrixhe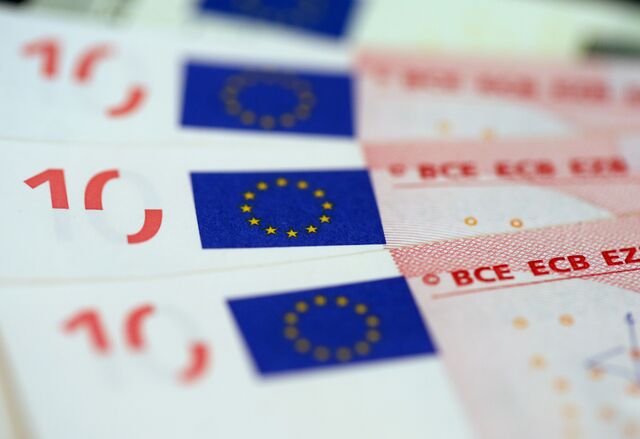 The euro rallied for a fourth week against the greenback, the longest streak since June, as European Central Bank President Mario Draghi refrained from adding to monetary stimulus.
The 17-nation currency strengthened versus most of its 16 major peers as Europe's central bank's stance outweighed labor and economic data in the U.S. that was stronger than forecast as traders bet the Federal Reserve will keep its benchmark interest rates unchanged even when it slows its bond-buying. The yen fell as the head of an advisory panel called on Japan's Government Pension Investment Fund to start cutting domestic debt holdings. U.S. retail sales increased 0.6 percent in November, according to a Bloomberg survey before the Dec. 12 report.
"Even though Draghi seemed to me to be dovish, he didn't appear to be in a hurry to provide more accommodation," Marc Chandler, the New York-based chief currency strategist at Brown Brothers Harriman & Co., said in a telephone interview. "The markets believe what the Federal Reserve is saying, tapering isn't tightening."
Europe's 17-nation currency rallied 0.9 percent to $1.3706 this week in New York. The dollar rose 0.5 percent to 102.91 yen, the sixth straight weekly gain and the longest streak since February. Japan's currency fell 1.3 percent to 141.03 per euro.
Futures Positions
Hedge funds and other large speculators changed their bets that the euro will gain against the U.S. dollar, figures from the Washington-based Commodity Futures Trading Commission show. The difference in the number of wagers on an increase in the euro compared with those on a loss -- so-called net longs -- was 9,312 on Dec. 3, compared with net shorts of 431 a week earlier.
The Bloomberg U.S. Dollar Index, which tracks the U.S. currency against 10 major counterparts, fell 0.4 percent to 1,016.87, snapping two weeks of gains. New Zealand's dollar was the biggest winner versus the greenback, adding 2 percent, while South Africa's rand had the worst performance, dropping 1.4 percent.
An equally weighted basket of the so-called BRICS emerging-market currencies rose against the dollar to 95.9 after falling earlier in the week to 94.7, the lowest since Nov. 12. BRICS refers to Brazil, Russia, India, China and South Africa.
Emerging-market currencies gained amid a "big short-covering rally," said Win Thin, the global head of emerging-market strategy at Brown Brothers Harriman & Co. in New York. A short is a bet that an asset's price will fall.
Emerging Markets
"EM will still find it hard to gain traction beyond today," Thin said. "Don't think too many will want to load up on EM given this backdrop."
The Canadian dollar weakened beyond C$1.07 per U.S. dollar this week for the first time in three years after the central bank kept interest rates at 1 percent and warned the risks of inflation remaining below its target band had increased.
The currency fell for a third week against its U.S. peer, the longest slump since August, even after official data showed employment in Canada rose by 21,600 last month and the jobless rate remained 6.9 percent, the lowest since 2008.
"The BOC's focus now is really on inflation and exports -- this jobs report is less important," Camilla Sutton, head of currency strategy at Bank of Nova Scotia, said by phone from Toronto.
ECB Policy
The euro rose to a five-week high against the dollar as the ECB kept its interest-rate targets unchanged and gave no indication that policy makers will introduce a negative deposit rate that would drive investors into riskier assets.
The euro gained as "Draghi was less dovish than many had anticipated, along with the rise in euro-zone money-market rates," said Mark McCormick, a New York-based macro strategist at Credit Agricole SA. "Our economists continue to think the ECB will ease policy again next year driven in part by the fragile inflation outlook."
The U.S. jobless rate dropped to a five-year low of 7 percent in November as employers added more workers than forecast. The 203,000 increase in payrolls followed a revised 200,000 advance in October, Labor Department figures showed yesterday in Washington. Joblessness fell from 7.3 percent.
Minutes of the Fed's Oct. 29-30 meeting showed policy makers "generally expected" improvement in employment data that would "warrant trimming the pace of purchases in coming months." Chairman Ben S. Bernanke said last month the central bank will probably hold down its target interest rate long after ending the program.
Fed Outlook
"The latest U.S. data falls into that rare terrain that unequivocally favors an early December tapering," Alan Ruskin, the New York-based global head of Group of 10 foreign-exchange strategy at Deutsche Bank AG, wrote in an e-mail. Markets are trading as though positioned for a strong report, "quashing the immediate positive USD impact, even if this data should provide a solid underpinning for the USD in coming weeks, notably against favorite shorts like the" yen and Canadian dollar.
The Federal Open Market Committee will probably begin reducing $85 billion in monthly bond buying at a Dec. 17-18 meeting, according to 34 percent of economists surveyed yesterday by Bloomberg, an increase from 17 percent in a Nov. 8 survey.
Japan's currency dropped as pension fund advisory group chairman Takatoshi Ito said the 124 trillion yen ($1.21 trillion) fund should trim local bonds immediately to its lower limit of 52 percent of assets. The fund's portfolio was 58 percent comprised of Japanese debt as of Sept. 30, according to the latest quarterly report on its website.
"The Ministry of Health has given an OK to everything that was said in the report," Ito said in an interview in Tokyo. "GPIF needs to start reducing bonds as soon as possible to its lower limit of 52 percent."
The yen has tumbled 14.4 percent this year, the worst performer of 10 developed-nation currencies tracked by Bloomberg Correlation-Weighted Indexes. The euro climbed 8 percent and the dollar gained 3.5 percent.
Before it's here, it's on the Bloomberg Terminal.
LEARN MORE