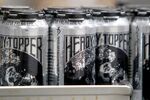 This week's most intriguing beer story is the tale of Stephanie Hoffman, the 28-year-old woman from Burlington, Vt., who was cited by her state's Department of Liquor Control for allegedly selling some 16-ounce cans of the stuff without a license. Hoffman wasn't just selling any old brew. She was literally dealing the most sought-after beer on the market: a double IPA called Heady Topper praised by Beer Advocate magazine as the world's best.
This is hardly the first time that Heady Topper, created by the Alchemist brewery in Waterbury, Vt., has been in the news. Last month the Associated Press reported that the craft brewery had to close its popular retail operation because neighbors were complaining that too many people were converging on the place:
"The hoppy concoction is so popular—sales have grown from 30 barrels a week to 180 a week in the two years since the [Alchemist] brewery opened on the outskirts of Waterbury—that owners Jen and John Kimmich plan to close their retail operation on November 15 to appease nearby residents. "We've had complaints from neighbors," Jen Kimmich said. "We would have had to fight to keep on going. … We decided to close down before it turns into a large legal battle."
Predictably, one entrepreneurial citizen set out to exploit the gap between supply and demand for the double IPA. The Burlington Free Press reports that Hoffman advertised her stash on Craigslist. She probably should have been more stealthy. Undercover investigators for the Vermont Department of Liquor Control met her in a gas station parking lot in the town of Georgia. Hoffman allegedly tried to charge them $825 for 120 cans. That works out to $27.50 for a four-pack, which generally sells for $14. Instead, she ended up with a citation and an order to appear in Franklin Country Superior Court on Dec. 30.
It turns out that the people at the Alchemist actually "tipped off" the state liquor control board about Hoffman's effort to circumvent the usual retail channels. Maybe the brewery should pay her a marketing fee instead. I'm going purchase the next Heady Topper four-pack that I come across. I want to see what all the fuss is about. I'd even pay $27.50.
Before it's here, it's on the Bloomberg Terminal.
LEARN MORE