Unemployment Falls to Five-Year Low
by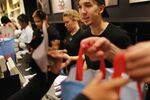 [Updates throughout with charts, quotes, details on report.]
The U.S. unemployment rate fell to 7 percent in November, the lowest since November 2008, raising questions about how much longer the Fed will keep fueling the economy with monetary stimulus. The economy added 203,000 jobs in the month.
Attention turns now to the Fed, which will have a new leader in February with Janet Yellen rising from vice chair to the chairmanship. A year ago the Fed said that it would keep interest rates at their near-zero floor as long as the unemployment rate remained above 6.5 percent. It's approaching that level much faster than most economists had projected, but in other respects the job market and overall economy remain soft. Recognizing that, Fed officials have since said that 6.5 percent joblessness is a "threshold," not a "trigger" for action.

Both figures in the Bureau of Labor Statistics report were better than the median forecast of economists surveyed by Bloomberg. They were looking for unemployment of 7.2 percent and job growth of 185,000.
There was other good news in the report: Manufacturing added 27,000 jobs, while construction employment grew by 17,000. Average hourly earnings rose 0.2 percent in the month to $24.15, bringing their yearly increase to 2 percent. And the average workweek rose by six minutes to 34.5 hours. The good news on jobs comes one day after the Commerce Department reported a surprisingly strong gain in third-quarter economic growth, an annual rate of 3.6 percent.
But the economy remains far from healthy. Labor force participation remains far below where it was before the 2007-09 recession. The unemployment rate would be higher if more people were counted as looking for work. The share of adults who are employed rose fractionally but remains near the 35-year low reached in October. As for the July-September economic growth, it was fueled by an increase in inventories accumulating on shelves. As a result, many economists marked down their growth estimates for the current quarter, which are in the range of 1.5 percent annualized.
The long-term unemployed saw little relief. The average term of unemployment rose to 37.2 weeks from 36.1 weeks, and the number of people unemployed for half a year or more stayed stuck at 4.1 million. People receiving unemployment benefits are required to keep searching for work. But many out-of-work Americans have exhausted their benefits and given up hunting for jobs, acccording to Gary Burtless, a Brookings Institution senior fellow in economic studies. The problem will worsen in January if all extended unemployment benefits programs expire at the end of December as currently scheduled, Burtless says in a statement from Brookings.
Before the jobs report, economists surveyed by Bloomberg were predicting that the Fed would begin to taper its purchases of long-term bonds after its March 2014 meeting, but not begin raising short-term interest rates until well after that. Today's report may cause some economists to revise their expectations. Capital Economics wrote that the 7 percent unemployment rate "gives the Fed all the evidence it needs to begin tapering its purchases at the next FOMC [Federal Open Market Committee] meeting later this month." Goldman Sachs economists disagreed, writing, "Despite the stronger-than-expected report, we do not think that today's release was strong enough to prompt the Fed to taper asset purchases in December as a baseline, although a move in December remains a possibility."
Before it's here, it's on the Bloomberg Terminal.
LEARN MORE