Tesla's Industrial-Grade Solar Power Storage System
Panel installer SolarCity uses the same batteries as the Model S
by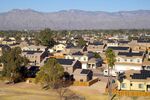 It's weird to see the big red-and-white Tesla Motors "T" logo hanging from the side of a house or a building, but suddenly, there it is. On Dec. 5, Tesla revealed a partnership with alternative-energy company SolarCity, which sells and installs solar panels for residential and commercial customers. SolarCity is offering an industrial-grade battery built by Tesla, a sign that the auto company wants to get into the battery pack and energy businesses.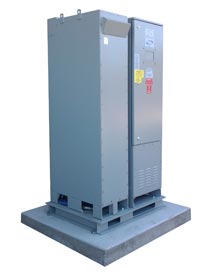 The storage system, looking something like a refrigerator with the Tesla logo emblazoned on it, contains hundreds of the same lithium ion batteries that go into Tesla's Model S sedan. "If you go to the end of the manufacturing line at the Tesla factory where they put the battery pack on, you will see these storage systems being assembled," says Peter Rive, SolarCity's co-founder and chief technology officer. SolarCity now sells the industrial version alongside a smaller, wall-mounted system that's been installed in about 500 homes so far. The commercial unit has been in beta tests for months and is selling in limited quantities so far.
Besides providing backup electricity during power outages, the storage system lets customers shift off the grid when conventional power is most expensive. Utilities typically tack on so-called demand charges during peak usage hours. SolarCity's software, called DemandLogic, can track when a customer is at risk of incurring the fees and switch to the storage system during that time. At home, Rive has tried to use only the solar battery for a couple of days at a time. "It has enough power for all the critical loads," he says. "You can bake a pizza while running your washer and dryer." (Critical pizza. Check.)
It's hard to escape Tesla at SolarCity's office in San Mateo, Calif. During a recent visit, about 10 Model S all-electric sedans sat in the parking lot. It's not just a business connection: Tesla Chief Executive Officer Elon Musk is a cousin of Peter and Lyndon Rive, who is SolarCity's CEO. Musk, SolarCity's chairman and largest shareholder, helped conceive the company during a 2004 road trip with the Rives to Burning Man, the weeklong bacchanal in Nevada's Black Rock Desert.
In 2010 the California Public Utilities Commission gave SolarCity a $1.8 million grant to study solar battery storage. While conducting that research, the company has grown into a top seller of residential panels with tens of thousands of customers. It also sells to businesses including Wal-Mart Stores and Google. SolarCity's revenue was $48.6 million last quarter, up from $32 million in the same period last year, and the company expects to install 475 megawatts to 525 Mw worth of power next year, up from about 278 Mw this year.
The company, which has about 4,000 employees, will sell the commercial storage systems initially in California, Connecticut, and Massachusetts. While customers don't have to pay upfront for the hardware, they must commit to a 10-year service agreement that requires monthly payments. "Our long-run goal is to include a storage system with every solar system we sell," Peter Rive says. Ben Kallo, an analyst at Robert W. Baird, cautions that it will be at least a couple of years before the systems are affordable for most solar customers. "It's not quite there yet from the volume and technology standpoints," Kallo says.
For Tesla, the SolarCity partnership may offer a chance to field-test more hardware. Tesla buys its battery packs from Panasonic, but Musk said on an earnings call in November that the company is interested in creating its own battery factory as demand for its cars increases. "In that scenario, SolarCity could generate extra demand and help reduce the cost of the batteries," Kallo says. "Ultimately, that would be a win for both companies."
Before it's here, it's on the Bloomberg Terminal.
LEARN MORE