Starbucks Brings Back $450, Handmade, Laser-Etched Gift Cards
By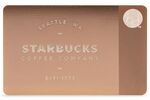 What do you get the coffee drinker who has everything? Consider Starbucks's version of the "Black Card"— a limited-edition, $450, fancy looking gift card, ideal for that special someone who can't bear paying with something as pedestrian as cash, credit, or even an app. For the second holiday season in a row, the coffee chain is offering its over-the-top metal gift cards, which go on sale at Gilt.com starting today, Friday, at 12 p.m. East Coast time.
Before you spit out your latte, consider that this may not be as ridiculous as it sounds. Superfluous, yes, but the gift/reward cards come with $400 in Starbucks credit (enough for 200 coffees!) and offer the highest-level rewards membership. The company claims that the $50 difference doesn't even cover the cost to produce each card, "so there really is a strong value to the customer," spokeswoman Linda Mills said in an e-mail. She went on: "It's completely handmade and features an artisan rose metal base with rose-colored coating. Starbucks lettering is laser-etched on the front, and since it's in such a small quantity, we do incur quite a bit of expense to produce them."
Recent history suggests the chain is on to something. Last year, Starbucks offered 5,000 cards in a stainless steel color, and USA Today reports they sold out in about six minutes. Recap: That's $2.25 million worth of gift cards in 360 seconds. (Now you can spit out your latte.) This year, only 1,000 of the cards will be sold—for a total of $450,000—because Starbucks wants it to be "a very premium, exclusive offering." Well, it sure beats a fruitcake.
Before it's here, it's on the Bloomberg Terminal.
LEARN MORE