How to Get a World Cup Ticket, Brazil Edition
By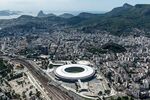 The FIFA World Cup draw happens today in Costa do Sauipe, Brazil. It's a bizarre pageant that overlays the byzantine process by which FIFA places the 32 World Cup qualifying national teams in groups of four to begin the tournament in June. It also kicks off the final scramble for 600,000 foreign visitors and three million domestic fans to find stadium seats, hotel rooms, and transportation—now that fans know where their team will be playing first. The process makes the draw itself look like a grade school exercise.
FIFA has already sold close to 1.1 million match tickets through its random lottery. Another round of sales, or "phase" as FIFA calls it, begins on Dec. 8 and will include the 16 percent of each match's seats reserved for fans of the two competing teams. Fans not lucky enough to win this lottery or get through during the subsequent, very brief, first-come-first-serve period, will not be able to buy these tickets from brokers, at least not legally. FIFA, like the Olympics, prohibits the transfer or resale of tickets except under narrow circumstances.
Hope is not lost, however. Deep-pocketed fans can go through FIFA's hospitality program for tickets that start at $700 per match, if you only want access to a food-and-drink tent set up outside the stadium, and run to thousands of dollars for private suites that come with commemorative gifts and premium parking. Many of these tickets already gone. "Currently the opening match and the finals are completely sold out at every level of hospitality," says Jessie Giordano, director of business development at Sportsmark, the San Francisco-based company with exclusive rights to sell World Cup hospitality packages in the United States.
FIFA sold the global rights to hospitality tickets and hotel accommodations to its Zurich neighbor MATCH Services for $150 million. (In August, Brazil's public prosecutor filed a complaint calling this arrangement a monopoly.) MATCH then re-sells rights to different partners around the world. Sportsmark is the MATCH partner in the United States. And it, in turn, sub-licenses with agents Cartan Global and Jet Set Sports. Confused yet? Cartan and Jet Set also pass along inventory to smaller agencies like Fandeavor and Kensington Tours.
At every step along the way, MATCH requires that vendors sell hospitality tickets at face value, which is the same in every country. Brokers make their money by packaging the tickets with flights, ground transportation, tours, parties, and, most important, hotel rooms. Fandeavor, for instance, has packages ranging from $5,000 to $75,00 per head. (Prices will go up today after the draw, says the company's head of business development Jacob Sudek.) By purchasing airline seats, hotel rooms, and other services in bulk at discounted prices, says Fandeavor co-founder and CEO Tom Ellingson, the company is able to make margins of 5 to 20 percent.
At Kensington, a seven-night pacakge, before the draw, started at $12,000 per person. "The sky is the limit with upwards of $100,000 per person depending what you want to see and do," says Brandi Merchant, the company's senior sales consultant in Latin America. Kensington's offerings include everything from a local tour guide to watching a match with Pele.
Companies like Fandeavor and Kensington are the retail end of a market dominated by corporate buyers. Giordano says 90 percent of Sportsmark's direct sales are to corporate customers—FIFA sponsors entertaining clients, oil companies showing off their presence in the Brazilian market, and smaller firms rewarding their best sales agents. They farm out the retail work to Cartan. All together, she says, the company will handle "thousands to ten of thousands" of tickets. She won't say how high prices might go for the top-end package.
If you are not one of the corporate swells and don't want to pay a middleman, good luck. Sudek estimates that all but the most diligent and knowledgeable buyers are essentially locked out by now. To have a chance, you needed to start last spring. "Airfare is pretty simple to get on your own." he says. "You could potentially get ahold of hospitality tickets, if you did a lot of digging." Most hotels and private ground transportation, however, are fully booked. And some hotels, says Kensington's Merchant, have minimum stays as long as 40 nights. According to Glayber Silva, a tour guide who works with Kensington customers in Rio de Janeiro, people are already booking rooms in Sao Paulo for matches in Rio and planning to make the six hour drive.
"We are a very small city surrounded by nature and water," says Glayber, "We don't have much room." In Brazil, tour guide is a licensed profession. Glayber has been at it for about ten years. He has a few pieces of key advice for visitors: Travel light; leave the jewelry and cash in the hotel. Go sightseeing early, preferably with a guide, who has special access. Wear comfortable shoes, and expect a (friendly) crowd.  "The city will be full, really full," says Glayber. "Prepare to walk a lot to get to the stadiums because there is a [two-mile] perimeter. And be prepared for fun because it's going to be a big party."
Before it's here, it's on the Bloomberg Terminal.
LEARN MORE