How DiGiorno Pizza Hijacked the Spotlight From The Sound of Music
By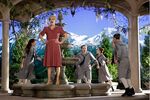 Who knew pizza went so well with musicals? NBC's broadcast of The Sound Of Music Live! may have been tossed aside by some critics like microwaved pizza—who said "It wasn't very good" and called it "exhausting"—but the performance was a win for NBC, attracting 18.5 million viewers. There was another winner, too: the marketing team at DiGiorno Pizza. Shockingly.
 
DiGiorno, along with its agency Resource, decided to have some fun with the classic musical and live tweet cheeky pizza-ized lyrics and commentary throughout the nearly three-hour performance, which garnered plenty of attention on social media. In the past day, there have been more than 130,700 tweets using #TheSoundOfMusicLive, and 120,300 that mention "The Sound Of Music," according to Topsy.com
Thirty-seven of these were pizza-related Sound Of Music tweets from the saucy fingertips of Josh Hara, a copywriter at Resource, who handles the Twitter account. They have since been retweeted thousands of times. Some examples:
DiGiorno's marketing manager Brian Linz insists this was not a carefully pre-planned marketing campaign and DiGiorno—a Nestlé brand—was not a sponsor of the program. The team chooses big "socially relevant" events it will focus on like football games and the birth of the royal baby in the past (apparently The Sound of Music Live! counts too), so when Hara's first #TheSoundOfMusicLive tweet quickly got passed around, "We rolled with it," Linz says.
Tweeting about pizza during the Super Bowl makes sense, but The Sound of Music? Does the viewership overlap with DiGiorno's target consumer? "I wish there was more science behind it," says Linz. "It's not like we said, 'It's this viewer and this daypart.' But our sense of humor broke through everyone who was celebrating—or complaining." As DiGiorno tweeted last night, "Still not over pizza getting overlooked in the favorite things song."
Before it's here, it's on the Bloomberg Terminal.
LEARN MORE