business
Gauging Main Street Hiring: November Ticked Up
By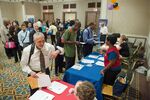 The U.S. economy added 203,000 jobs in November, the Bureau of Labor Statistics said today, putting job gains on pace for the best year since 2005. How did small business hiring stack up? As always, it depends on who's doing the counting and how they define "small business." Most of the hiring surveys the New Entrepreneur tracks showed small increases in hiring last month.
A survey of 762 National Federation of Independent Business members found "ho-hum hiring" in November. Overall hiring ticked up, as did plans to increase employment in the future, but job creation is "still historically low," according to a press release. Most NFIB members have fewer than 20 employees.
The CBIZ small business employment index, which measures hiring at more than 3,500 companies with fewer than 300 workers, also increased slightly. It's too early to tell whether the increase is based on holiday staffing trends, the company said in a release.
Payroll company ADP reported that companies with fewer than 50 employees hired 102,000 workers in November, up from 61,000 in the previous month. Small businesses have hired an average of 76,000 workers a month through the first 11 months of the year, according to ADP data, up from an average of 63,000 a month in 2012.

A monthly index from SurePayroll, which compiles data from 5,000 businesses with an average of six employees, showed small business hiring ticked down last month. That made November the 11th time in 12 months that the SurePayroll hiring index decreased. The good news: More small businesses are planning on handing out yearend bonuses in 2013 than in the previous year.
The unemployment rate for the self-employed, unincorporated, and unpaid family workers was 5.3 percent in November, down from 5.4 percent in November 2012.
Before it's here, it's on the Bloomberg Terminal.
LEARN MORE