Chinese in Smoggy Cities 'Are Dying' for This Austin Startup's Air Purifiers
By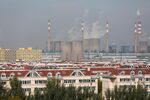 The health effects of air pollution in China have been well-documented. Early this month Shanghai warned children and the elderly to stay indoors because the "level of the most harmful pollutants exceeded more than 10 times the level deemed safe by the World Health Organization." In late October, China announced it would set up a nationwide monitoring network in 16 of the worst-affected cities and provinces within three to five years, "in an effort to assuage public anger sparked by environmental degradation," Bloomberg News reported.
The problem is spurring something of an air purifier gold rush in China, where individuals and businesses are snapping up the devices to try to filter pollutants from indoor air. (A home's indoor air, it turns out, is replaced by outdoor air every two hours, because of leaks from doors and windows, though it takes longer in newer homes that are better sealed.) A report from market research firm TechSci Research estimates the Chinese market for air purifiers will reach $22 billion by 2018.
Oransi, a four-person startup in Austin, Tex., is one of the latest U.S. air purifier brands to target China. To differentiate the brand's high-end line from competitors' models, founder and Chief Executive Officer Peter Mann is touting its Made-in-USA origins and aiming for Chinese businesses and individuals who can afford to spend the $2,000 or more he estimates retailers will charge for the units. Mann says the cost is justified because of the high-quality components, all which are made in the U.S., except for their energy-efficient German motor and fan. "Obviously, price point-wise, it's not a product for the masses," he explains.
Mann is now in the process of shipping the first 500 units in batches to his four Chinese distributors so that they can clear customs and be in stores before the Chinese New Year at the end of January. He's close to selling 1,000 additional units to his distributors in China, though he won't start shipping them until March or April. "People have been dying to get their hands on them," says Mann. "If you're living in that type of environment where the air you breathe is [hazardous], are you going to go cheap or are you going to go with something that works?"
Gauging the effectiveness of air purifiers is tricky, as this New York Times article makes clear. It notes the devices "occupy the same category as faith-based wellness products like nutritional supplements" and points out the Food and Drug Administration doesn't regulate air purifiers because they aren't considered medical devices. Mann says he's aware the Federal Trade Commission cracks down on false air purifier advertising and is careful about what he promises: "There's a lot of slick marketing [and] concern about what [air purifiers] can do for viruses and killing germs. We don't make those types of claims; we stay away from that."
Rather than build his own factory, Mann contracts with Ebm-papst, the German manufacturer that supplies the motors he uses in Oransi's high-end models. Ebm-papst builds them in its Farmington (Conn.) plant with the kind of industrial-strength filters used in hospital operating rooms. Mann, who invested $200,000 to get Oransi off the ground in 2009, estimates $2.5 million to $3 million in sales this year, and about $6 million in 2014, half of which will come from selling to China. The inspiration for the business was sparked when one of Mann's sons suffered from asthma as an infant, and Mann and his wife grew frustrated with the treatments.
A former officer in the Navy and executive at Tech Data and Dell, Mann, 47, likens the atmosphere of the Chinese air cleaning market to the "feel of the early computer days: There's a lot of players involved, and there's a huge opportunity, and it has yet to be seen how it's going to play out." Next step for Oransi: adding small U.S. flags on the purifiers' control panels to show that they're not another "Chinese-made product with a U.S. name on it."
Before it's here, it's on the Bloomberg Terminal.
LEARN MORE