pursuits
As Shoppers Turn Cheap, American Eagle Turns to Cheap Stuff
By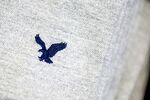 Consumers may or may not be confident, but they are definitely frugal. There was abundant evidence of that yesterday in a rash of disappointing November retail data, and American Eagle Outfitters chimed in today with similarly dismal results.
Citing "tepid" consumer demand and an "intensely promotional" retail environment, American Eagle showed Wall Street some decidedly ugly numbers. Not only was traffic down at American Eagle's 1,000 or so stores in the recent quarter, but all of the discounting hacked the apparel maker's operating profit margin from a relatively fat 14.1 percent in the year-earlier period, to 4.9 percent. Even today, American Eagle is offering 40 percent off everything full-stop.
Not surprisingly, profit slid 68 percent to $24.9 million in the past quarter. "Our financial performance is clearly unsatisfactory and not consistent with our objectives," American Eagle Chief Executive Officer Robert Lee Hanson told analysts in a conference call.
Hanson, however, has a plan: If consumers turn cheap, give them cheap stuff. American Eagle plans to close about 50 traditional stores next year while opening 26 "factory stores." It's also ramping up production on "made-for-outlet"—read: lower quality—merchandise. Right now, about half of the clothes in its factory stores are made specifically for that channel. Next year, the company hopes to increase that share to 75 percent, according to Hanson.
"We will not compromise physical or aesthetic quality, but we believe there is waste in our product that doesn't deliver in terms of consumer value," he said. "We're going after that."
Before it's here, it's on the Bloomberg Terminal.
LEARN MORE