Abe Calls for China Talks Citing 2006 Trip as Tensions Rise
Matthew Winkler, Isabel Reynolds and Takashi Hirokawa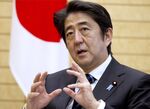 Japanese Prime Minister Shinzo Abe called for a summit with Chinese President Xi Jinping to reset relations after an escalation in bilateral tensions, invoking a 2006 visit to Beijing during his first administration.
"Since there are issues, it is all the more important to have a leaders' meeting," Abe said in an interview in the prime minister's official residence in Tokyo. "I visited China as prime minister and met with Hu Jintao," he said, referring to a visit on which he reached an agreement on developing bilateral relations. "Now is the time to go back to that starting point."
Abe's call yesterday is his most explicit yet for a summit since China's declaration last month of an air-defense zone that overlaps with Japan's over the East China Sea. U.S. Vice President Joe Biden, on a trip to Japan, China and South Korea this week, urged the two nations to establish crisis-management communication.
Abe, 59, highlighted the value of ties between Asia's two largest economies, with China benefiting from job gains stemming from Japanese investment, and Japanese companies profiting from earnings on their Chinese business. A surge in tensions last year triggered demonstrations in China that cost Japanese automakers billions of dollars in lost revenue, underscoring the importance of avoiding an incident prompted by the air-zone rift.
Nissan's Business
Last year's unrest set Nissan Motor Co. as much as two years behind on its midterm China targets, Chief Financial Officer Joseph Peter said in a Dec. 5 interview at the company's headquarters in Yokohama.
Japan's total exports to China, its top trading partner at the time, slumped 11 percent last year.
Nissan's sales in China will grow at a rate outpacing the overall industry next year, as there hasn't been any anti-Japanese backlash among consumers.
"Next year, we should see our sales increasing, probably a little bit more than the industry," Peter said.
Toyota Motor Corp. said Dec. 2 that its China sales rose 41 percent to 89,800 vehicles in November, lifting the 11-month total to 809,000.
"The relationship between Japan and China is one that can never be severed," said Abe, who took office for the second time as prime minister in December 2012. "We both need each other. Even if we have a problem, we should not allow it to control the whole relationship."
Repaired Ties
Abe has yet to hold a summit with either Xi or South Korean President Park Geun Hye, amid continuing territorial disputes with both neighbors. The impasse is a contrast from Abe's 2006-2007 term in office, when he repaired ties with China that had frayed under predecessor Junichiro Koizumi -- whose visits to a national war shrine stirred Chinese resentment.
Abe agreed with then-President Hu to "strive to build a mutually beneficial relationship based on common strategic interests," according to a statement by Japan's Ministry of Foreign Affairs.
China's Foreign Ministry said in November 2006 that bilateral ties were "back on track" since Abe had become prime minister. Abe in an April 2007 meeting with then-Premier Wen Jiabao secured an agreement to restart exchanges of defense officials.
Asked whether China is open to a summit with Japan now, Foreign Ministry spokesman Hong Lei told reporters in Beijing yesterday that "the problem is Japan cannot look straight at history and reality and do the right thing on certain issues. So we once again ask Japan to look at history and reality and pursue the same direction as China."
Wartime Association
Some Japanese cabinet members continue to visit the shrine that Koizumi visited -- Yasukuni, which honors the country's war dead including World War II leaders convicted as Class A war criminals.
"Japan should respect China's decision on the air identification zone and do something real and substantial to improve relations," Hong said.
The air defense identification zone, or ADIZ, declared by Xi's government last month challenged Japan's administration of East China Sea islands called Senkaku in Japanese and Diaoyu in Chinese. Since 2010, China has increased marine surveillance and sent Chinese aircraft into the disputed space above the islands, leading Japan to deploy jets and step up its own patrols.
Secrecy Bill
Abe increased his nation's defense budget in 2013 for the first time in 11 years and the Defense Ministry wants another budget increase for next year, a move that would return military spending to its highest level since 2005. Abe also secured passage yesterday of a bill giving the government sweeping powers to declare state secrets, a measure aimed at strengthening the Japan-U.S. alliance by facilitating intelligence sharing.
The air zone news prompted warnings from Japan's ally the U.S., including ones voiced by Biden on his trip this week. China's influence in a region that increasingly drives the global economy means it must take a bigger role in maintaining stability, Biden said in a Dec. 5 speech to business leaders in China.
"China will bear increasing responsibility to contribute positively to peace and security," Biden said. "That means taking steps to reduce the risks of accidental conflict and miscalculation."
Before it's here, it's on the Bloomberg Terminal.
LEARN MORE