With Spiffy Earnings, Joseph A. Bank Becomes a Pricier Takeover Target
by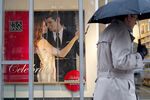 Even after its advances were spurned by Men's Wearhouse, Joseph A. Bank Clothiers is looking pretty sharp. And its isn't sulking over its failed proposal. Neal Black, JoS. A. Bank's chief executive, said the company has its eye on a number of alternative takeover targets.
Meanwhile, the retailer's sales increased 6.3 percent in the recent quarter, hitting $247.5 million, while profit ticked up 2.3 percent, to $13.6 million. Strong sales of slim-fitting suits and its big-and-tall offerings helped balance out slipping sales in its dress-shirt business. The company drove results by overhauling its advertising strategies and increasing its direct marketing. "We are working aggressively to capture new customers with the goal of increasing the frequency of repeat visits, the number of items purchased, and higher average unit sales," Black said on a conference call this morning.
One of the only ugly spots: same-store sales. The metric hardly budged, in part because fewer people came into the stores. Still, those who are shopping at Bank are generally spending more, both in the past quarter and more recently. "As we have entered the fourth quarter … we are seeing that our total sales, comparable store sales, and direct sales have all increased substantially," Black said.
No wonder Men's Wearhouse turned around and tried to buy JoS. A. Bank after fending off acquisition advances from its rival. What does all of this mean for the volley of buyout bids going back and forth? Men's Wearhouse may well have to sweeten its offer if it is serious.
Buoyed by recent results and a strong Black Friday, JoS. A. Bank shares are now trading at almost $57, roughly $2 more per share than Men's Wearhouse put on the table. Black, meanwhile, said his team is crunching the numbers on the takeover bid. "I can tell you that work is under way, but I cannot give you a timeline of when that work will be completed to enable us to give a thoughtful response," he said.
Given its recent performance, JoS. A. Bank has no reason to rush.
Before it's here, it's on the Bloomberg Terminal.
LEARN MORE