Review: Victoria's Secret Fashion Show
The Victoria's Secret Fashion Show is trafficking in girl power
Kurt Soller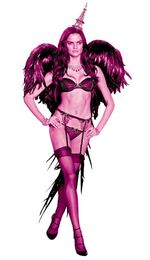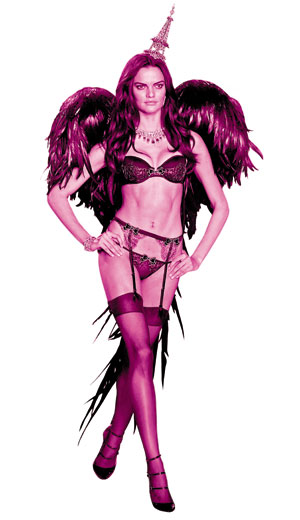 In the Victoria's Secret Fashion Show, which airs on Dec. 10 on CBS, 40 genetically gifted models flaunt their bums in elaborate outfits unlike anything sold in the store. There's a racy soccer star, a hot policewoman, and an enticing equestrian. It's a parade of sexy Halloween costumes—a tween parent's worst nightmare. The hour includes performances by Taylor Swift and Fall Out Boy, who simultaneously sing and mingle with the girls, as well as pans to screaming Victoria's Secret retail associates in the enthusiastic front row. Fashion designer Valentino Garavani is there, as are jaded bloggers and, of course, Sexiest Man Alive Adam Levine. His fiancée, Behati Prinsloo, walks as one of the brand's famed Angels: sequined vest, white panties, 10-foot feathered wings.
The show, which has cost $12 million to produce in the past—and this year features a $10 million diamond-encrusted bra—was filmed twice on Nov. 13 to ensure perfection from every angle. Director Hamish Hamilton knows from television spectacles: He's shot the Oscars and the Super Bowl halftime show.
The buzz gets going before the airdate. In 2013 the company leaned on social media to keep anticipation high between filming and broadcast, mostly through Twitter's #VSFashionShow hashtag. It also promoted the event with new behind-the-scenes clips on victoriassecret.com, including exercise tips and confessional model videos. In one, Lindsay Ellingson says, "We've all been working out for the last few months, so we're all celebrating today because we wanna show off." The videos aren't sexy, they're girlfriend-y—meant to forge a bond between the models and their female fans (and potential Victoria's Secret customers).
Since 2001, when the show first aired, it has attracted protests from groups such as the Parents Television Council, the National Organization for Women, and the American Decency Association. This September, the women's website Jezebel.com chided the 2013 casting process—"the methodology used by Victoria's Secret models to stay thin is pretty damn unhealthy"—while admitting they train as hard as pro athletes.
These debates are great for ratings. This week the company expects 15 million American viewers to tune in, up from nearly 10 million in 2012, when it was a top night in television for women ages 18 to 34. And that's before it's shown in 192 countries over the next few months. "It sounds crazy, but before the show, no one [worldwide] had heard of Victoria's Secret," says Edward Razek, the event's producer and model scout. "When we go to other countries, the first question is, 'Could you bring the show here?' It's created awareness." The program does well enough that earlier this year, CBS approached Victoria's Secret about moving the special closer to Christmas in hopes of boosting both TV advertising dollars and U.S. sales during the crucial preholiday weeks.
Despite the abundant cleavage, the event is for female, not male, viewers. "Men only shop on two days of the year," Razek explains, "the day before Christmas and the day before Valentine's Day." Famous models such as Gisele Bündchen, Adriana Lima, and Cara Delevingne are paid as much as $1 million annually, not only for their enviable proportions, but also because hundreds of thousands of teenage girls "like" their backstage Instagrams. "The emotional connection the models provide is a pretty powerful marketing tool," says Cowen Group analyst John Lerner. Last year 65 percent of the show's audience was women. The company hopes to push that number higher in 2013 with interstitials on couture-level costume technique and Olympics-style montages that show how models have persevered through injury to earn their moment. The result is exhibitionism with a gloss of empowerment. Or, as one model's belly shirt says: "Pink Girls Rule the World." The garment's not for sale, but the idea is.
Before it's here, it's on the Bloomberg Terminal.
LEARN MORE