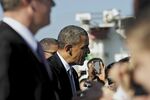 Gazing at an Alexander Calder mobile in the Seattle-area mansion of Jon Shirley, a former Microsoft executive and art collector, Barack Obama said he was eager to "roam around a bit and check stuff out." But alone time wasn't on the president's itinerary that night. The millionaires who'd gathered at Shirley's house for a Democratic fundraiser on Nov. 24 paid $16,200 apiece to see the leader of the free world up close.
The dinner was one of seven events the president squeezed into a three-day trip to Seattle, San Francisco, and Los Angeles in late November. Obama chose those locations in part because they have a high concentration of rich people—the fundraisers netted at least $6.5 million, based on reported ticket prices and crowd counts—but also because they're Obama-friendly in a way many places in the country no longer are. As he struggles to fix the healthcare website, explain his administration's policy of spying on U.S. citizens, revive a listless economy, and come to terms with Republicans over the federal budget, the president's approval rating has dropped below 40 percent. Yet in Hollywood and Silicon Valley, movie stars and tech executives still greet him with 2008 levels of adulation.
Although Obama says he's run his last race, he still needs these donors to support Democratic congressional candidates in 2014. The party's trying to prevent Republicans from gaining seats in the House and taking control of the Senate. This year the president has headlined 38 events, twice as many as in 2009. George W. Bush participated in 14 in the comparable year of his presidency, according to Brendan Doherty, a political scientist at the U.S. Naval Academy who tracks fundraising. The Democratic Congressional Campaign Committee and Democratic Senatorial Campaign Committee together raised $108.7 million through October, topping their Republican counterparts by $26.8 million. "Nothing matches the excitement, the buzz, the entourage factor of a presidential visit," says Ari Fleischer, Bush's former press secretary. "When you drop a mention of attending that kind of a fundraiser, it credentials you."


Obama's schedule was packed from the moment he stepped off Air Force One in Washington State on the evening of Nov. 24. His motorcade wound its way to the Seattle home of Tom Campion, co-founder of clothing retailer Zumiez, where the president spent about an hour with 30 donors who'd paid as much as $32,400 to attend. The next stop was Shirley's home, where Obama was joined by House Minority Leader Nancy Pelosi of California and Washington Governor Jay Inslee.
The next morning, Obama flew to San Francisco to appear at two parties in his honor. The more exclusive one was an early afternoon gathering of 30 people at Marc Benioff's complex near the Presidio. Benioff, the founder of Salesforce.com, has said he doesn't consider himself a Republican or a Democrat, and records show that he has contributed to both parties. Josh Earnest, a White House spokesman, said a question-and-answer session Obama held with the group covered the same topics donors typically raise: the healthcare.gov rollout, immigration legislation, and investment in infrastructure and research.
You'll have to take his word for it. The affair, like Campion's, was off-limits to reporters. At some events the press was allowed to listen to Obama when he addressed guests, but were ordered out of the room before he took questions from the audience.
Later that day, it was off to the Beverly Hills home of Hall of Fame basketball player Magic Johnson and his wife, Cookie. Guests, including actor Samuel L. Jackson, paid as much as $15,000 to mingle with the president inside the house while people who'd written $2,500 checks had to content themselves with cocktails and finger food in a party tent on the lawn. Nearby, 120 donors were finishing dinner at entertainment executive Haim Saban's sprawling property, where Obama made his next appearance, in a heated tent festooned with pink roses. Tom Hanks and Rita Wilson sat closest to the presidential podium. During his introduction, Saban, an Israeli American who is a leading investor in Univision Communications, the No. 1 Spanish-language TV network in the U.S., casually mentioned that days earlier he and his wife had enjoyed an "intimate" dinner at the White House.
Obama had one final stop the next morning at the Hancock Park home of Marta Kauffman, a producer of the 1990s sitcom Friends, and composer Michael Skloff, who wrote the show's theme song. The breakfast drew 30 donors who paid as much as $32,400 each. Then it was back to Air Force One for the long flight home to D.C. Obama's Left Coast admirers likely won't have to wait too long to see him again: The party's most sought-after fundraiser will almost certainly pay another visit before next November's elections. "The president has invested time and energy to support the party," says Democratic National Committee spokesman Michael Czin. "He continues to be an incredibly strong draw for us."
Before it's here, it's on the Bloomberg Terminal.
LEARN MORE