Fast-Food Workers of the World, Unite!
The fastest-growing service union in the U.S. takes on the industry
By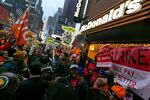 The campaign by fast-food workers to raise the industry's minimum wage to $15 an hour and unionize has gathered momentum so quickly it has surprised even some of the organizers at the Service Employees International Union, which is underwriting it. A year ago, a group of workers protested at dozens of restaurants in New York. On Dec. 5, workers were expected to rally in about 100 cities.