Rotman Goes to the Bank (of Canada) for a New Dean
Francesca Di Meglio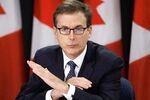 The University of Toronto's Rotman School of Management has named Tiff Macklem, a leading figure in Canada's financial system, its new dean.
Macklem is currently senior deputy governor of the Bank of Canada, where he shares responsibility for monetary policy and economic stability with the bank's governor and four other deputies. In that position, he also serves as Bank of Canada's chief operating officer and a member of its board, overseeing strategy and operations.
Macklem will begin a five-year term as dean of Rotman on July 1, 2014. Until that time, Vice Dean Peter Pauly will continue as Rotman's interim dean of.
The school has been searching for a new dean since October of last year, when Roger Martin announced he was stepping down. On Martin's watch, Rotman grew dramatically in both size and stature. The school has twice the physical space, and the endowment is four times larger than when Martin arrived in 1998. During his tenure, Rotman has been among the top 10 international MBA programs on Bloomberg Businessweek's ranking, climbing as high as No. 3 in 2006. In 2012, Rotman fell to No. 11, the last time Bloomberg Businessweek ranked full-time MBA programs.
Macklem was born in Montreal and graduated from Queen's University in 1983 with a bachelor's degree in economics. He completed a master's degree and Ph.D. in economics at the University of Western Ontario. Prior to his appointment at the bank, Macklem served as associate deputy minister of the federal Department of Finance and Canada's finance deputy at Group of Seven and G-20 meetings.
"We are delighted that Tiff Macklem is joining the University of Toronto as dean of the Rotman School," said Cheryl Regehr, the university's vice-president and provost in a statement. "He has vast experience managing large institutions, translating academic research into public policy, and representing Canada on the world stage."
Before it's here, it's on the Bloomberg Terminal.
LEARN MORE